Edgartown's Favorite Salon Offers Treatments for Everyone
by Kendra Mills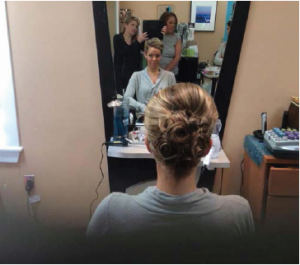 Everyone who has spent time on the Vineyard, or really anywhere in the greater New England area, understands the frustration of humidly and impossibly frizzy hair. Not to mention the havoc wreaked by endless time spent in the ocean and even the shower! The complaints are endless but, for those despairing, there is a solution.
Wave Lengths Salon and Day Spa on Upper Main Street in Edgartown. Founded in 1989, Wave Lengths has a plethora of health and beauty services and treatments. Owner Jayne Leaf spoke with This Week on MV about the numerous treatments offered at Wave Lengths,recommending the Keratin Treatment as an essential during the summer.
"For your hair, the Keratin Treatment is best with the type of weather we have. It smooths the cuticle of the hair, making it much easier to dry and less apt to frizz."
If you're in need of an up¬do for a formal occasion, Wave Lengths offers special consulting for designing hairstyles. Brides and bridesmaids often seek the help of the professional Wave Length staff to make sure their hair is perfect for their big day. Customers have raved about the results they have received and the salon hasbeen recognized by publications such as Modern Salon Magazine.
However, Wave Lengths is hardly just a hair salon;there are numerous other options, including waxing, manicures, and tanning. Taking care of the body during the beautification process is very important and Wave Lengths also offers massage, facials, and seaweed body wraps for those who need some summer TLC.
Wave Lengths uses some of the finest styling and beauty products for their treatments such as lines by Paul Mitchell, Bess, Framisi, Sabastion, Bed head, Tigi, Pevonia, Redkin, Japanese straightening, Opi, Essie, and TammyTaylor.

Regardless of the occasion, summer is a perfect time to take care of yourself and feel beautiful! Be sure to set up an appointment at Wave Lengths Salon and Day Spa at (508) 627¬7066 or find more information on their Facebook page.