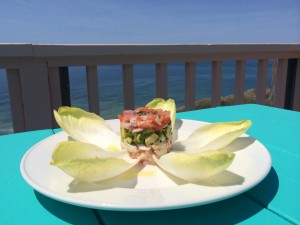 Located atop the picturesque Gay Head Cliffs in Aquinnah with a view that won't let you forget where you are, the Aquinnah Shop is one of the island's oldest restaurants, is family-owned and operated and features an authentic American, Native American, and seafood-filled menu, including a Salad & Raw Seafood Bar. This week, TW dug into the Shop's Lobster Crab Salad, a tower of layered deliciousness. Order up this $19 dish and you'll enjoy juicy pieces of fresh lobster and crab, avocados, tomatoes, and red onions, with a house Thousand Island dressing. Served with endive cups to help shovel it all in.
MORE INFO:
Aquinnah Shop Restaurant
27 Aquinnah Circle, Aquinnah
508-645-3867
Serving breakfast, lunch, and dinner M-Th 10:30-3 F-Sun 10:30-4
Open for dinners mid-June
Indoor/Outdoor seating – Selection of beer and wine.