The Vineyard Offers Yoga for Every Type of Personality
by Ashley Amato
Meet Megan Grennan, yoga instructor and legend here on Martha's Vineyard. Grennan has been teaching body movement classes on the island for twenty years and specifically instructing yoga for the last fifteen.
The Yoga Barn in West Tisbury is Grennan's home-base for teaching. The studio, constructed from a Vermont dairy barn, provides the perfect tranquil setting for inner sanctity. French doors open to a green field, inviting light and bird's song to wash through the room. Grennan, laughing, deems the barn "the Taj Mahal of yoga studios."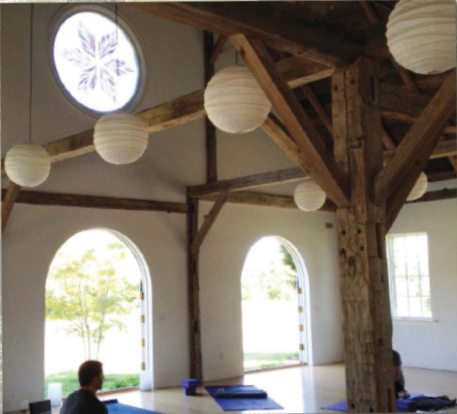 A gentle breeze passes through the open space, echoing Grennan's emphasis on the importance of breath. Each yoga pose elicits new guidance from Grennan, who inserts words of wisdom as though they are simply a passing thought. "It is really about empowering people to understand that in yoga the practitioner is the teacher, and the instructor is only creating a reflection to bring you into a deeper experience within yourself," says Grennan.
Grennan certainly practices what she preaches. Her classes leave one with a feeling of physical centeredness and mental uncertainty. Grennan illuminates, "There is an awareness that's cultivated through yoga. Each person finds the teacher within them and finds out how to somatically organize information– locate their being within their body." "Yoga is not a religion, it is a science. It is not about taking anything for granted, or believing what teachers or a book is telling you. It's about you experiencing it, trying it on, exploring, and discovering what is true and what is revealed in you. It is about finding who you are."
Lanterns glow softly in the high-ceilinged barn while a small Buddha figure watches overhead. The Yoga Barn creates a space that welcomes every visitor. Its beauty contains a simplicity that allows one to concentrate on a yoga state of mind. Thoughtfully, Grennan says, "Yoga makes us transparent. It is like looking into a mirror. We see our deepest, most beautiful infinite selves. And we explore that, reach for it, yearn for it, devote ourselves to it. But we also find what blocks us from that: our egos. We find our bodies, our stuck places, our will power, our resistance."
Classes invite children and adults of both genders. Those who gather range from regular practitioners to first-timers. Whatever the skill level, Grennan emphasizes the importance of finding the path of yoga that feels right for the individual. "To me yoga is self-investigation, and in that process each person needs to find what works for them, to have the most integrity in that investigation. Different forms of yoga are going to create different contexts in which people can explore better." "Ultimately yoga isn't about getting stretchy, strong, or good at the postures. It's about cultivating a balance in which you create your full aliveness," Grennan says insightfully.
As Martha's Vineyard increasingly becomes a hotbed for vacationers, there remains little room for peace and quiet. Thankfully, yoga centers are plentiful and provide the perfect space for an affordable retreat. Those looking for an afternoon cleanse should hit hot yoga, where temperatures reaching 105 degrees Fahrenheit cleanse the body. For others, meditation-based yoga will inspire a great morning boost. With all of the different types of yoga offered around town, everyone can find a practice that is right for them.
MORE INFO
1 Red Barn Rd.
West Tisbury, MA 02575
508-645-YOGA (9642)
marthas-vineyard-yoga-barn.com