Yesterday's Faces with Today's Haul:
Larsen's Fish Market brings Fresh Seafood, Fishing Tradition to Locals and Visitors Alike
Clementine Wiley
Stepping into Larsen's Fish Market, you become part of a half-century Menemsha tradition. Behind its sky-blue door appears to be a modest fish market that you quickly realize is an island treasure.
The Larsen family has owned and operated the Fish Market since 1969. Located at the crest of Menemsha where fishing boats come to dock and unload their catches, and where the #4 bus stops to unload its own, this restaurant is open seven days a week from 9:00 a.m. to 6:00 p.m.
Larsen's catches them all; their fresh seafood includes striped bass, bluefish, cod, flounder, mako, salmon, swordfish, and tuna, as well as shellfish: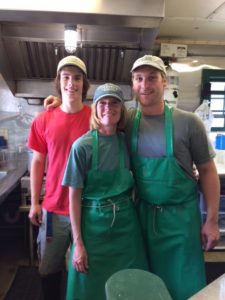 calamari, littlenecks, mussels, oysters, scallops, shrimp, and steamers. The seafood is sold at market price, which changes daily, and is exhibited right as you walk in. On the left side side, fresh fish lies on display, and on the right, packaged seafood and homemade sauces and spreads are ready to pick up. At the back counter and raw bar, if you can squeeze past enough people standing eagerly in line, you can meet the aproned Larsens—a family with big smiles, ready to slice open a plateful of clams for you, between answering phones, shouting greetings, and slipping lobsters into pots.
The owner, Betsy Larsen, works in the kitchen and at the counter every day. Larsen's was started by her parents, Louis and Mary, in 1969, and she has been cooking for the Market since age 14. Off the menu, Betsy especially recommends the stuffed quahog, a recipe that has been in the family for as long as she can remember.
In the backbone of their Menemsha community, they are partly local suppliers, selling everything from fishing knives to boxes of scallops to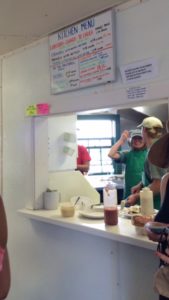 Larsen's t-shirts for $15. When asked about any Larsen favorite dish, Betsy answered, "We eat a lot of swordfish, because we grew up on it." Any particular Larsen traditions? "Customers will ask what a portion is, and that's typically a quarter to a half a pound. But most of the Larsens eat more than half a pound—when people ask how much they should get, we always say, well, this is how much we could eat." How often does the family eat seafood? Betsy says she often picks at some lobster throughout the day. "And clams almost every day, because I can just come right up to the raw bar and open one."
She has watched a tradition grow into an iconic Menemsha picture: cracking open a boiled lobster while watching the sun set over the ocean. Another part of what's been special over the decades has been seeing returning customers every summer–even returning over generations. "I remember seeing some kids over the raw bar and now they're like this (gesturing shoulder height)."
To top it off, you can find a charming view from the back seating area of the harbor, full of vacation boats, fishing boats with nets and crates slung over them, and the rosy sun streaking pastels across the sky.