The Wharf is a Favorite Edgartown Haunt for Lunch, Dinner and Nightlife Entertainment
by Diane Alter
Like any good sports bar, The Wharf in Edgartown boasts its share of wide screen TVs, chicken wings, burgers and brews. While these are all ubiquitous sports bar staples, it does not mean they have to be predictable. In fact, The Wharf always pleasantly surprises.
Huddled in-between busy stores in the heartbeat of Edgartown at 3 Main Street, The Wharf is a coveted spot to sit a spell and enjoy great food and libations.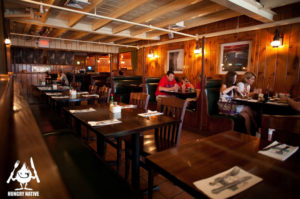 The décor is pure nautical. Polished paneled walls and wooden booths and tables make the dining area warm and welcoming. Cathedral ceilings with large chandeliers and an intricate bar make up the expansive back room where live bands perform. The busy bar in the front of the house is a seaside paradise of lively chatter and company.
A full lunch and dinner menu is offered daily. Late night, The Wharf morphs into a popular evening entertainment scene.
But food first…
Starters includes items you would expect to find in a favorite sports pub, such as Potato Skins, Nachos, and Wings. But The Wharf also offers some unconventional and distinct appetizers including: Spinach, Jalapeno & Artichoke Dip; Cod Cakes; Chowder Fries; and Fried Dill Pickle Slices.
Traditional Caesar Salad and Cobb Salad are also offered, along with a Grilled Flank Salad and a Baby Kale Salad. The latter is a colorful creation of ripe strawberries, fresh feta cheese and chunky walnuts all dressed with a savory citrus vinaigrette.
A number of burgers, sandwiches, paninis and wraps are also available. The Surf & Turf Burger, made with Angus Beef and luscious lobster salad, is a two-fisted beast of a burger with a fantastic flavors burst. All come with a choice of golden French fries or creamy cole slaw.
Entrée items include Veggie Pasta, Lobster Ravioliand Linguini & Clams. A sensational Seafood Platter, 1 ¼ pound lobster from The Wharf 's on-site 75 gallon tank, Sea Scallops and 12 ounce Strip Steak are also offered. Sides include: Mashed Potatoes; Sautéed Broccoli: Rice; Sautéed Baby Spinach; Grilled Asparagus; and Corn Bread.
The food is always expertly prepared and presented.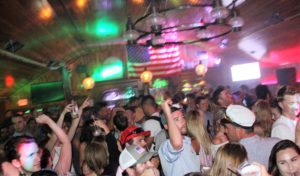 Now, on to adult beverages… A multitude of tap and bottled beers are always cold and always frothy. The Wharf 's extensive wine list will impress even the most discerning vino aficionado. Specialty cocktails, frozen drinks and iced coffees are also offered.
Neat or on the rocks. Shaken or stirred. Frozen or Fizzy. Every bar boasts its own boozy claim to fame. But it's the watering hole that keeps you lingering, keeps you nursing a drink and has you asking for another round that is the "IT" place. The Wharf is "IT."
Here, camaraderie between perfect strangers becomes automatic under the assumption that if you both found your way here, you two probably have more in common than you do with most of civilization.
You cannot but be in a good mood on Martha's Vineyard. The air, the sea and the landscape all conspire to put you at ease. So does The Wharf in Edgartown.
MORE INFORMATION
3 Main St
Edgartown
(508) 627-9966
wharfpub.com