Wave Lengths Salon provides all the beauty services you could need and more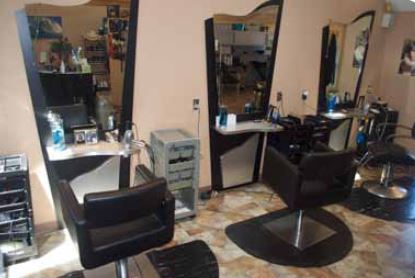 Martha's Vineyard, to many, has been dubbed a place where people come to escape and take a break from bustling cities and yes, perhaps even bad hair- cuts. At Wave Lengths Salon this proves more than true with a client list that ranges from Islanders to weekend visitors, all with one thing in common: they want a great haircut only found at Wave Lengths.
Located at 223 Upper Main Street in Edgartown this stylish little salon offers big time hair. Open on Tuesdays until Saturdays, from 10 a.m. till 8:30 p.m., Wave Lengths accepts both scheduled appointments and walk-in customers year round, ensuring that your experience is easy and absent of any hassle.
Opened in 1989 as the only full service salon on the island, Wave Lengths Salon has been open and running for more than 20 years–23 years to be exact. Owner Jayne Leaf, with hundreds of hair styles and make up applications under her belt, has worked hard to keep up to date with all the big fashion crazes, celebrity hair-do's, and funky trends. Whether it's a haircut you want to look like the hottest celebrity or makeup application to look like a Kardashian, Wave Lengths is the place to be.
Although hair being their specialty, Wave Lengths offers many other spectacular services to help make you beautiful from top to bottom. Services include manicures and pedicures, massages, facials, waxing, keratin treatments, sugar butter body scrubs, eye lash extensions, brow and lash tinting and much more. One very popular service Jayne told me about are color corrections because clients trust Wave Lengths to "fix what others have fallen short on." Tying the knot or know someone who is? Well Wave Lengths also surpasses all others, having serviced hundreds, when it comes to wedding parties, group events, and even a night out with the girls. Wave Lengths hasn't forgotten the boys either, so feel free to bring your son, brother, father or boyfriend in.
With many employees and staff members having been through her door, Jayne is proud to say that during her time at Wave Lengths "80% of salon owners on the island trained at Wave Lengths before going out on their own." Today, with a staff of about 8, Jayne ensures that all of her professionals are experts in their fields as they are "constantly going to classes to keep up with the latest technology." Unlike other salons, where you will find staff keeping to themselves, Wave Lengths is unique in that all the staff work as a team "so you not only have the full attention of your stylist but the knowledge and tech of our team of professionals." New to the salon, Wave Lengths is happy to announce that Vanessa is the newest addition, specializing in ethnic hair.
Very proud of the salon she has created in Edgartown, Jayne is very enthusiastic about the opening of their new location and luxury salon. Although the location has not yet been announced Leaf promises that clients will find that Wave Lengths has not changed. Continuing to carry the best products, like Paul Mitchel, Sabastion, Black, Framisi, Derma Organics, Pavonia, and Global, clients will walk away feeling like a million bucks.
So whether you are just on Martha's Vineyard for just a day, a week, month or year, Wave Lengths will be there for you. Forget all those bad haircuts you've had in the past and come get noticed at Wave Lengths salon. Trust me, your hair will thank you.
Wave Lengths Hair Salon
223 Upper Main Street
Edgartown, MA
508-627-7066