Vineyard Transit Authority: The Easy Way for Tourists to Travel Around the Island
by James Reagan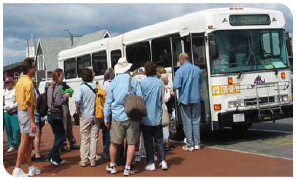 The population will triple in the next few months. As summer draws near, the influx of tourists will lead to many traffic jams. For those not driving a car or riding a bike, the bus system is an excellent alternative. The Vineyard Transit Authority (VTA) is an affordable option available in all six towns.
Since 1980, VTA has been the "only public transportation that covers the entire island," according to VTA assistant administrator Lois Craine. The VTA bus schedule runs year-round, with increased services offered during the peak months of July and August.
"We try to increase the schedules and add more drivers in anticipation of the busy shoulder seasons," says Craine.
The rates are very affordable. The general rule of thumb is that town-to-town fares can be purchased for one dollar, including the town of origin. There are also unlimited travel passes offered for frequent bus riders. A one day pass costs $7, three days costs $15, and a week costs $25.
There are no additional charges for pets, although they do need to be on a leash or in a carrier to enter the bus. There are also no charges for bicycles, which can be stowed on the racks in front of the buses.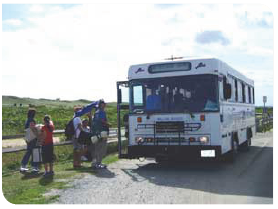 The buses meet Steamship Authority arrivals and departures, ensuring that ferry riders make it back before their boat leaves.
Children ages six and under ride free when accompanied by adults. The buses also accommodates for people with disabilities and senior citizens, both of whom are entitled to half price fares upon request. In addition, all buses are handicap accessible.
VTA prides itself on being available to patrons every day of the year, even in the case of an emergency.
"We would be at the direction of local authorities in case of an emergency, but our goal would be to run as long as possible," Craine said. "Historically, we try to be the last people on the road, and we feel a responsibility to get riders home from work."
Maps are present at every VTA stop, detailing the times for each bus stop. Drivers and other workers in purple VTA shirts sell passes to customers and can also provide answers to most questions.
More Info
Address: 11 A Street, Airport Business Park, Edgartown MA 02539
Phone: 508-693-9440
Administrative Hours: 8:30 a.m. – 4:30 p.m. M-F
One Day: $7.00
Three Day: $15.00
Seven Day: $25.00
31 Day: $40.00
Annual – Adult: $100.00
Annual – Student: $50.00