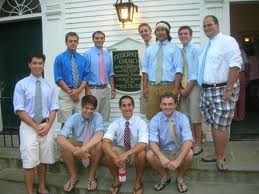 It's a beautiful Sunday morning and you've just finished an exquisite lunch out by the docks in Edgartown. The afternoon would be a perfect time to explore the many shops alongside Main Street before hitting up South Beach for a few hours.
But before you can even enter the first store, a loud noise gets your attention. You look right in front of Edgartown National Bank and have trouble believing what your eyes are seeing. Ten males, dressed very handsomely in khaki shorts and pastel dress shirts, are singing what seems to be an impromptu a capella version of "I'll Be Your Crying Shoulder."
If this happens to you, consider yourself blessed. You've just been "Vineyard-Sounded" for the first time. The Vineyard Sound is an all-male a capella group that travels the island and on occasion, spontaneously breaks into song. Formed back in 1992, the group consists of 10 males from nearby colleges that have a love for music and exploring the island. Not surprisingly, the lineup changes from summer to summer as the group now prepares to enter their second decade in existence.
If for some reason spontaneity isn't your thing, you can plan ahead and catch the Vineyard Sound in one of their many concerts. They have a fairly predictable schedule that sees them play at the United Methodist Church in Oak Bluffs nearly every Monday and also at the Chillmark Community Church nearly every Tuesday. On Fridays, you can start your weekend with a double dose of Vineyard Sound by catching them at the Federated Church and St. Andrews Church, both located in Edgartown. The Vineyard Sound also hits up several annual shows and private events throughout the summer; to get a good idea try to catch an informal street performance where they will usually announce what's coming up next.
So what does the Vineyard Sound like to do? Obviously they like to sing and explore Martha's Vineyard while simultaneously brightening the days of their many listeners. To get an idea of what they actually sound like, be on the lookout for 10 fancily dressed young men with smiles on their faces.
You can also check out the Vineyard Sound on Youtube. Their most-viewed video on Youtube is a lights out version of "Run Around Sue," complete with some special Vineyard-specific lyrics. Go ahead and watch it but be fore-warned: it's difficult to stop at only one Vineyard Sound video.
-James Reagan