The Island's Intriguing Gingerbread Cottages Are Enchanting and Rich in History
by Diane Alter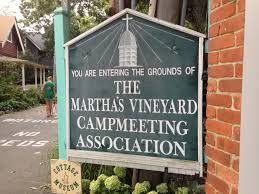 It's hard to think of an island that wears its charms more conspicuously than Martha's Vineyard.
Indeed, you find them everywhere. They are spotted on the Vineyard's pristine beaches. You discover them in the island's fascinating people. And, they are in every nook and cranny of MV's diverse towns.
In Oak Bluffs, a short walk from lively Circuit Avenue, you will find one of Martha's Vineyard's iconic treasures: the storied Gingerbread Cottages.
To be sure, the cottages are a major tourist attraction. Visitors frequently snap pictures of the quaint homes painted in a kaleidoscope of colors. Yet the area around this cluster of fairy-tale like cottages remains a quiet dream-like utopia. Clinton Avenue is a no-cars strip of verdant foliage, humble hydrangea plants and a peacefulness that must be experienced to truly comprehend.
The picturesque homes are a feast of colors reminiscent of bright pink frosting, lime green jello and light lavender. They are garnished with wonderful wood curls like the ones that adorn handmade gingerbread houses that always look too good eat.
The cottages' roots can be traced back to 1835, when a halfacre of rural land bordering a sheep pasture was chosen as the site for a modest Methodist camp meeting. By 1859, the area then called Wesleyan Grove, had grown into one of America's largest permanent camp meeting sites.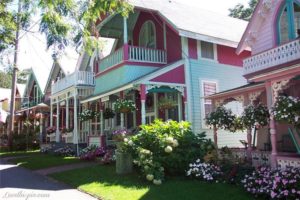 A Tabernacle, constructed of wrought iron, took center stage at the camp in 1879. In 1885, Grace Chapel was built and a permanent religious community was established.
Tents dotted the initial camp grounds. As the camp became a permanent year-round establishment, small cottages replaced the tents. The colorful cottages sported the whimsical Carpenter Gothic style, which was popular at the time. The area was officially dubbed "Cottage City" in 1880. In 1907, the name was changed to its current Oak Bluffs.
Another change is that over the years the Martha's Vineyard Camp Meeting Association has become progressively interdenominational rather than strictly Methodist.
Still, the Gingerbread Cottages have held onto their original tent-like and fanciful feeling. Nestled closely together with steeply-pitched roofs, the cottages convey an intimacy that simply adds to their unique charm.
Some 318 of the original 500 cottages still remain. Collectively, the group makes up the 34-acre Wesleyan Grove National Historic District.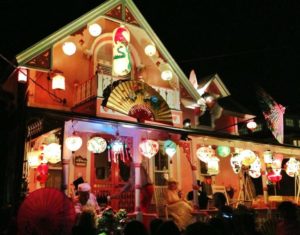 Most of the Gingerbread Cottages are shuttered during the winter. But as soon as the summer season nears, this delightful storybook community bursts to life.
The Association hosts a number of events open to the public. They include weekly community sings in the Tabernacle, campground walking tours, and family movie nights. For a small fee, visitors can tour one of the gingerbread cottages that has been converted into a museum.
Martha's Vineyard drips with fascinating history. The Gingerbread Cottages are a key and delicious part of the island's past, present, and without question, its future.