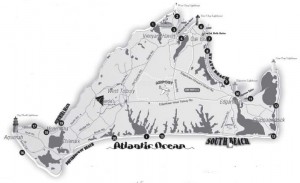 Plan your island day in the sun and surf with this handy Vineyard Beach guide. Click the map on the right to view all beach locations.
TISBURY
1. Lake Tashmoo Beach
At the end of Herring Creek. Swimming. Small waves.
2. Bayside
Near Vineyard Haven Yacht Club. Free swimming lesson; Off West Chop Road at the end of Owen Little Way
3. Owen Park Beach
Harbor Beach, short walk from Vineyard Haven. Good for small children. Swimming
4. Vineyard Haven Harbor
Past the Black Dog Restaurant. Parking nearby. Wading only, no swimming
5. Lagoon Bridge Park
Vineyard Haven side of the lagoon. Swimming in either the lagoon or the harbor. No diving.
OAK BLUFFS
6. Eastville Point Beach
Swimming on the harbor side. Open to all. Excellent views, great sunsets.
7. Oak Bluffs Town Beach
Very popular, lifeguards on duty. Swimming lessons.
8. Joseph A. Sylvia State Beach
Good family beach. Located between Edgartown and Oak Bluffs on Beach Road. Bicycle paths, parking. Open to all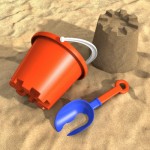 EDGARTOWN
9. Bend-in-the-road Beach
Shallow water, small waves. Perfect for families with small children. Beautiful view of Nantucket Sound. Lifeguards on duty, swimming lessons.
10. Lighthouse Beach
Harbor Starbucks Neck. Calm water, small waves, safe for small children. Windsurfing, sailboats. Short walk from North Water Street. Necessary to wear shoes
11. Chappy Point
Ferry ride form Lighthouse Beach. Two beaches. Small waves. Great for shell and seaglass collecting.
12. East Beach
Facing East, relatively empty. Part of the Cape Pogue Wildlife Refuge and Wasque Reservation. Swimming/wading. Charge for seasonal auto access.
13. Wasque Point
Ocean, ponds and Katama Bay. Requires Trustee stickers for parking and access. Famous for fishing. Dangerous for bathers.
14. Katama-South beach
Along the Katama Road out of Edgartown. Surfing, swimming although there is a FIERCE undertow. Katama Bay is safer for swimming and young children.
15. The West Tisbury South Shore Town Beach
Requires Trustee stickers. Isolated. Good surfing. Includes Long Point Fun Pond. Has a wide ocean shore.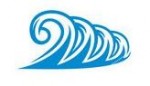 CHILMARK
16. Moshup Beach
Land Bank acquisition. Park at a town lot for $15 a day. Sunbathing.
17. Lobsterville Beach
Lobsterville Road. Calm North Shore beach. Parking is limited.
18. West Basin
Access to the Lobsterville Beach and West Jetty. Good swimming and fishing.
19. Menemsha Public Beach
Next to the harbor. Safe for children. Cool water, excellent sunsets.
20. Chilmark Pond Reserve
Kayak or canoe to South Shore ocean beach. Parking available. Must bring your own car-top craft to enable you to get over to the beach.