Discover the Beautiful Without the Bustle
by Shannon Hurley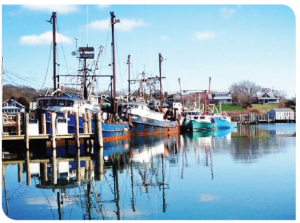 Chilmark, 02535
Woody forest, meandering stone walls, countryside dotted with cows, lambs, growth, quiet; Chilmark is home to Menemsha, working fishing village complete with gorgeous harbor and public beach (and where you just might find the best chowder!). Where you'll find the island's highest point: Peaked Hill (311 ft tall).
Location: Vineyard Sound to the northwest, West Tisbury to the east, Atlantic Ocean to the south, Aquinnah to the southwest; Menemsha on northern end.
Don't Miss: Dutcher Dock, Beetlebung Corner, Menemsha Hills Reservation, Mill Pond
Eat: Chilmark Tavern (508-645-9400), Home Port (508-645-2679), Beach Plum Inn (508-645-9454),
Menemsha Fish Market (508-645-2282)
West Tisbury, 02575 
Trees, farms. Pastures filled with livelihood. West Tisbury is the agricultural heart of the island, and where you'll find Lambert's Cove and Makonikey, Alley's (the oldest operating retailer on the Vineyard), and the witch-hazels, camellias, magnolias, and stuartias of Polly Hill.
Location: Vineyard Sound to the northwest, Tisbury to the northeast, Edgartown to the east, Atlantic Ocean to the south, Chilmark to the west.
Don't Miss: Alley's General Store, Polly Hill Arboretum, Split Rock, Cedar Tree Neck Sanctuary
Eat: Scottish Bakehouse (508-693-6633), 7a (508-693-4636), State Road (508-693-8582),
Lambert's Cove Inn (508-693-2298)
Aquinnah, 02535
Steeped in local history and inundated with the colorful contrasts of the Atlantic Ocean and impending burnt and rusty clay cliffs the town is known for, Aquinnah is the island's most rural zip code. Home to the Wampanoag tribe, long ago boasted a thriving whaling industry (think Tashtego, Moby-Dick).
Location: Vineyard Sound to the north and northwest, Chilmark to the east, Atlantic Ocean to the south and west.
Don't Miss: Gay Head Lighthouse, the Cliffs, Aquinnah Cultural Center, Quitsa Pond Lookout
Eat: Dreamcatcher Snack Bar (508-645-2600), Faith's Seafood Shack (508-645-4080),
Aquinnah Shop Restaurant (508-645-3867), The Outermost Inn (508-645-3511)
How to Get Up
While some might consider it a trek, the trip Up-Island takes little more than some planning and will provide a charmingly picturesque break from the down island hustle. Whether you've got a bike, a pup, or just a backpack, four wheels or no wheels, heading Up should be on your agenda (AND the farm stands!).
Bus: Martha's Vineyard Transit Authority (VTA) provides year-round, island-wide public transportation; $1 per town, each way, including town of origin, children 6 and under ride for free, leashed and behaved dogs
allowed. Cash accepted; one, three, and seven day passes are available for purchase on bus.
Bike: Bring your own or rent one here; Martha's Bike Rentals (508-693-6593), Martha's
Vineyard Bike Rentals (800-627-2763). The various routes up island (your choice: well-maintained paths or long stretches of open road) are a biker's treat but should be ventured with caution when off the trails and on the roads. Bike maps are available at the Chamber of Commerce office on Beach Road in Vineyard Haven.
Car: Bring yours over via the Steamship Authority or rent one once you get here; A-A Island Auto Rental of Martha's Vineyard (508-696-5300), Budget Car Rental (508-693-1911), Avis Martha's Vineyard Airport Rent-A-Car (508-693-2226). Take any of the quiet, gorgeous roads that lead to the southern end of the island (South, Middle, and North Road will drain your camera battery).