by Madeline Smith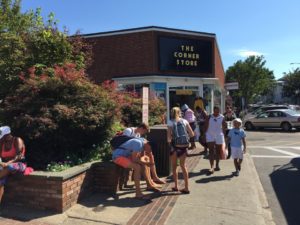 Whether you are looking for something small and traditional, or something a bit more out-of-the-ordinary, The Corner Store has it.
Located on Circuit Avenue in Oak Bluffs, the Corner Store has long been known as the best convenience store around. Not only will you find what you need here, but you will also appreciated the tight-knit and friendly group of employees that have been taught to cater to the needs of those seeking that which they have forgot, didn't know they would need or even didn't know they would want until they walked through the doors and saw just how much the Corner Store has to offer.
Owner Luke Debbetencourt has been involved with the business his entire life. He took over Management of the shop from his father once he became old enough to make The Corner Store a priority of his own.
This Week had the chance to explore and understand the welcoming expansive store that has the look and feel of a place passed down through generations of Vineyarders, because it has.
This Week: How did you come to own the Corner Store?
Luke Debbetencourt: My dad owned this place for years. I am a fifth-generation owner. But our main thing is that this is family run business. We just try to meet the need. Whatever you need on vacation, or if you are a local looking for something special that you cannot otherwise get, we try to have it. As for what we sell, it is timeless items like a beach ball you played with when you were a kid—the same one I played with and the same one your kids will play with. It's the same thing with our other beach toys.
TW: What is your mission?
LD: We are a family store. I don't sell alcohol or glass pipes. We are the store you can send your 5-year-old to for a gum ball or toy and know they are alright on their own. We have generations come in. Grandparents with their children, who come in with their own kids now. We also try to help out all the local employees. Wait staff in need of an energy drink can get in and out quickly, and we try to throw them a discount if they need it. I'm proud to say, and this is not a knock on any summer workers, we have always hired only island teens who go through the school system here and are yearround residents. We also try to give back to whatever they are involved in. We have an employee right now who is part of an acapella group called the Sound Wave. We are helping out the group by donating and providing free drinks when needed.
TW: What are your top sellers?
LD: That is a good question. We sell a ton of post cards. I probably sell 25,000 post cards every ten days. Water is another big one of course. Other than that, everything in here sells. Nothing really stands out in my mind. In a world where everything is changing at break neck speed, it's nice to bring your family into a store so rich in island tradition, that you might just end up finding an item your parents or grandparents bought from another Debbetencourt a long, long time ago.
MORE INFORMATION
24 Circuit Ave
Oak Bluffs
(508) 693-1470