Tony's Market is the Convenient Go-To Spot for Shopping and Lunch
by Courtney Taylor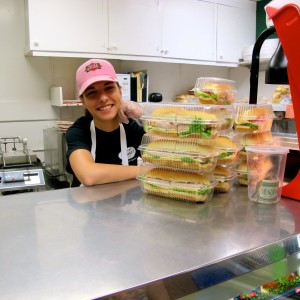 Tony's Market is a local favorite among shoppers, and its consistent quality and welcoming employees continue to win over both locals and visitors. Located in Oak Bluffs, Tony's Market is the most convenient store on the island. It sits outside of the hustle and bustle brought to the Vineyard by tourist traffic, but it is conveniently located near Circuit Avenue, the main street in Oak Bluffs.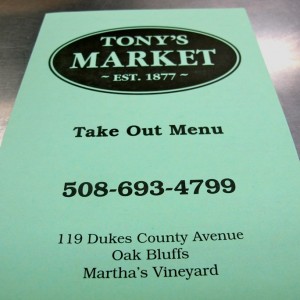 The deli at Tony's is well known for its delicious sandwiches, salads, and ready-to-eat entrees. Regular patrons visit the store for their morning coffee and freshly made bagel. It's a social and friendly environment, making grocery shopping all the merrier. The store's year-round long hours allow shoppers to buy their food and beverage items when it is most convenient, which is especially important during the exciting and often busy summer season.
Tony's Market is the only supermarket that offers a wide selection of beer and wine. The grocery store also retails an impressive selection of groceries, snacks, meat, and fresh produce. You can enjoy one of their made-to-order deli sandwiches on one of the inviting benches outside of the shop or order your lunch to go.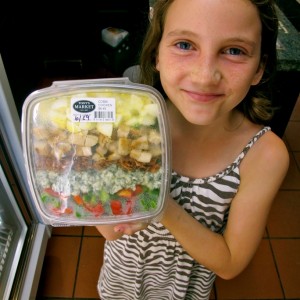 I have been to the market twice since my recent arrival on the island, but each time I have enjoyed a huge salad from their deli refrigerator. Fresh vegetables, candied walnuts, chicken, and a wide selection of dressings were available for my salad selection. It was big enough to enjoy for two meals, but, as a salad-enthusiast, I opted for eating the entire plate of greens in one sitting.
Named after the original storeowner, Tony's Market is over 100 years old. A timeline of the store's previous and current owners is on display in the store. Dave and Ellen Richardson purchased Tony's Market in 1992 and have remained the owners for the past twenty-one years. The charming history adds to the small-town, personal feel of the quick and convenient market.
Whether you are a year-round islander or a tourist visiting Martha's Vineyard for a week, I suggest that you stop by Tony's Market. After you make your purchases and order a fresh deli spread, stroll over to the nearby local Art District and enjoy the many galleries located within a few blocks from the market. Tony's Market is a no-hassle convenience store with several perks – location and friendly staff being two of them!
MORE INFO
Open year-round, daily from 6:30am – 10pm
119 Dukes County Avenue
Oak Bluffs, MA 02557
Phone: 508-693-4799
tonysmarketmv.com (online menu available)