by Billy Cox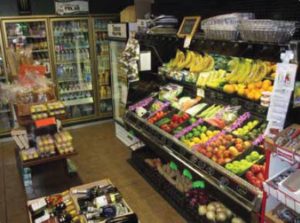 Sunset Breakfast, Lunch or Dinner. Monday morning or Friday night. From barbecues to birthday parties and from rainy days to beach days Tony's Market has what you need. The building's front on Dukes County Avenue in Oak Bluffs is deceiving in regards to its size but once you step inside the seemingly small store the floor space just keeps going and going and going. There's a deli counter and a coffee corner to your right, a produce and freezer section straight ahead and long aisles filled with everything from A to Z to your left. Tony's Market is also a proud purveyor of both beer and wine.
Tony's has built its solid reputation as being an all-in-one shop for the island. It's been a lifesaver for those who rent a house on island for a week because of the variety of goods that they offer. Forgot to pack a toothbrush? Tony's has your back. Need milk, eggs and bread for that big breakfast you forgot you told everyone you were going to make? Head down to Tony's.
Perhaps what Tony's Market is best known for is serving delicious food from their deli counter. Kelly, who manages Tony's Market, sums it up best: "Come here if you're hungry." Their famous Steak and Cheese is just one item in their arsenal that will satisfy your lunchtime cravings. There is also the Tony's Bacon Cheeseburger or their delicious Reuben, both of which come over the counter in generous portions. The hot and cold readyto- eat options are tremendous as well, with many folks raving about their salads that feature crisp lettuce and fresh toppings like on the Cobb or the Harvest Salad. Grab some fresh cut fruit and you've got a healthy snack on the go.
The market's versatility makes it a great spot to stop for lunch. Aside from being able to knock everything off of your shopping list you can come in to get a hot meal, any kind of drink you can imagine and maybe grab a lottery ticket to try and hit it big so you won't have to work anymore and can just order food from Tony's all day instead.
Kelly explains that people keep coming back for more because of how fresh everything is, "We get daily deliveries from Dippin' Donuts here on the island and also from Pain D'Avignon in Hyannis which is how we have fresh bread, donuts, scones, croissants, muffins, brownies and more every morning." They also use as many local farmers and purveyors as they can to both support local business and insure fresh products.
While the deli counter closes around 3pm they do make sure to prepare enough salads and subs— including their Steak and Cheese— to get the island through "drive time," as they call it in the market.
On an island that has some of the finest beaches in the country you'll also want to stop in here so you can have a Tony's Market Beach Day. Here's how to do it: First stop is the deli counter to have fresh sandwiches prepared. Then, while you wait, walk around the mini superstore and fill a basket with snacks and supplies like fresh fruit, yogurt, salty snacks, ice, sunblock, towels and maybe a Harlequin romance novel for the ladies. Then grab a Styrofoam cooler to pack it all in and head to the beach.
No matter what type of day you're having or what kind of meal you're planning Tony's Market is the place to go to make it better.
MORE INFORMATION
119 Dukes County Avenue, Oak Bluffs
(508) 693-4799
Dial Extension 5 for Daily Special