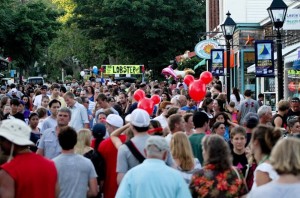 By Colin Stoecker
Driving through Vineyard Haven at 11:30 pm any night of the week may seem vaguely reminiscent of an old west ghost town, but this past Sunday, you couldn't ride a bicycle down the middle of the street without stopping to get off and weave your way through the crowds of people!
The Tisbury street fair that took place this past Sunday evening exceeded all expectations. A live band was pumping what sounded like 90s alternative rock all through the streets, giving the place an electric vibe.
I usually peg Vineyard Haven for a small quiet town, and even as more of a place to grab a nice cup of coffee from Mocha Motts or an awesome breakfast at the Art Cliff Diner followed by an early morning stroll, than a place to hang out late into the night with friends.
But the street fair with townies and tourists in abundance reminded me of how many people there are vacationing and living in Vineyard Haven this time of the year.
There was a raffle for a longboard from the Corner 5 booth, and there were 15$ lobster rolls courtesy of the Martha's Vineyard Rotary Club.
So far as the food was concerned, you only had to decide which organization to donate your money to, or just follow your nose! All in all, the Tisbury street fair felt like 4th of July in Edgartown, without the fireworks, but with better food and more fun.