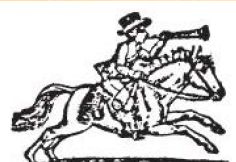 by Colin Stoecker
The Newes from America is a famous pub in Edgartown with a rich and eccentric Island history. Offering traditional American restaurant fare, the Newes is located underneath the Kelley House, built in 1742. "A well rounded and family friendly place," according to John Hill, Pub Manager, The Newes' English pub atmosphere is an intentional spin off of the colonial British who first came to the Vineyard.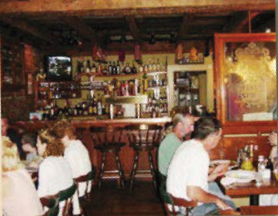 "We all came to America from somewhere, but we are not a British or Irish Pub, we are a traditional American pub… and some of the dishes here are borrowed from cultures that people brought over with them to the new world," says Hill.
To start, the menu resembles an old fashioned newspaper and borrows a bit from traditional English print. It features small stories in the margins entitled "That's Newes to Me! Little Known Facts to Amaze Your Friends." These tidbits range from how skunks first arrived to Martha's Vineyard to trees that actually eat rocks on the Island to English sailing customs.
While absorbing a bit of the history from the menu and surroundings, pick from a list of "New England's Best: Award Winning Brews." On tap there is Light Newes, Newes Lager, Lime 'n' Light Lager, Steele Rail Extra Pale Ale, Best of Sea Dog, Shipyard Summer Ale, Harpoon Seasonal, Otter Creek Copper Ale, Offshore Nut Brown Ale, Drayman's Porter, Guinness Stout, and even a Rack of Beers for sampling. Also check out the Newes' wooden buffalo nickel program to earn your name on a mug or even a barstool!
Stop by for dinner inside the old-fashioned pub or a light lunch on the outdoor patio. Every Saturday night the special is Prime Rib, and according to Hill it is "a generous portion of 8-10 oz. of Prime Rib." Some favorites on the menu are the fish and chips and the Roquefort Stilettos, toasted French bread topped with Roquefort and bacon. The bangers and mash are popular, authentic Irish sausages served with mashed potatoes. Also the crab cakes and salmon are excellent as all of the seafood and vegetables served here are local, a feat which is not always easy to obtain on an island according to Hill.
The Newes has been in business for 23 years and continues to stay open into the winter months for their year round and seasonal customers alike. Hill remarks that, "on Friday nights in the winter people sit by the fireplace and enjoy live music."
A dinner or lunch at The Newes is an island experience and will refute the feeling that American culture on Martha's Vineyard has been diluted by the touristy shops of Oak Bluffs or Vineyard Haven. Come down to the Kelley House and experience it for yourself, while enjoying some great beer and excellent American fare.
MORE INFO:
23 Kelley St.
Edgartown, MA 02539
(508) 627-4397
kelley-house.com