The Newes From America Pub is one of Martha's Vineyards most reliable places to eat and grab a drink with great food and great prices.
By Meaghan Murphy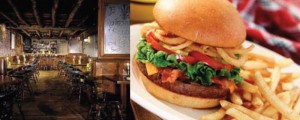 Whether you've lived on the island for years or are just here for the day the Newes From America Pub in Edgartown makes you feel right at home. Everyone there is friendly, helpful, and you might even get a few laughs while reading the menu, which is written like a letter from an old friend. The Newes is located right at the base of the famous colonial pub at the Kelley house.
The Newes is located right at the base of the famous colonial pub at the Kelley house. This restaurant has a variety of drink options and there is something on the menu for every taste. Whether you want a burger, a salad, fish and chips, or a steak, the Newes has it all. All appetizers are under $10, they have a special kids menu, and the Clam Chowder comes highly recommended from staff members and guests alike.
The Newes features a Chicken Sandwich served with grilled chicken, roasted red peppers, onion, pepper jack and chipotle mayo. This sandwich is a fan favorite of many who visit the pub and keeps them coming back for more. They also have a unique BlT Salad made with applewood smoked bacon, fresh baby tomatoes, and you can add your choice of Calamari, Chicken, Grilled Shrimp, Mahi Mahi, or Blue Crab Cake for just a few dollars extra. It is served with s p e c i a l blue cheese dressing and it's impossible to not eat the whole thing.
When you look at the drink menu that features the Chappycicle and the Martha's Rita, it's hard not to chuckle at the Vineyard references. You may even get a history lesson in the menu in the "Newes to me" section where they list off random and interesting facts about the island.
The Newes features a special wooden nickel program as a pretty interesting way to keep you coming back for drinks. For every tall draft you purchase, you get two wooden nickels, for every small draft, you get one. If you collect 500 coins your name is displayed on the Declaration of Distinction on the wall next to the bar. If you are feeling extra ambitious collect another 500 coins and you are on the Declaration of Superiority, as well as your having your name put on a brass plaque on one of the barstools. This stool will then be yours for an entire year.
The pub has two bars that serve several different ice-cold draft beers. They have the light Newes, a beer that is brewed especially for them, it's unique, refreshing, and you can't get it anywhere else. They have IPAs, Sam Adams, Shipyard, and some other local beers. If you can't decide you can just get a rack of beers, it's five draft beers of your choice for just $13.50. They also have a great list of red and white wines.
A long time and beloved bartender Doug just may fix you one of these drinks. he has been working at the Newes for about 20 years now and even has his own special drink, the 'Doug's hug,' a gin, limejuice, and citrus soda mix, a local favorite. You can catch him there working nights.
The Newes has an old time feel, dim lighting, logs lining the ceiling, and the soundtrack in the background is made up of classic music we all know and love. The Newes is a dependable and delicious place to eat, drink, and relax in this very laidback hometown-feel pub.
The Newes from America Pub
3 Kelley St, Edgartown
508.627.4397
Kelley-house.com