The Marina Dock's only Ice Cream store offers candy and ice cream
James Reagan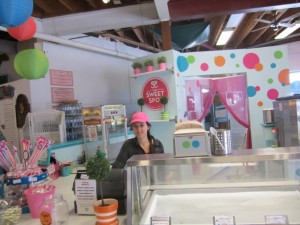 One of the best ways to end a hot summer day is by eating some ice cream with friends and family. The Vineyard makes it easy in most towns, with ice cream shops seemingly appearing on every corner.
Until recently though, there has been a lack of ice cream spots on Oak Bluffs' dockside marina. That changed in 2010 when Jeremiah McCarthy created the Sweet Spot, which he still runs with his wife.
"As the only ice cream store on the harbor, we're a nice place for people to come get ice cream and not fight crowds on main street," McCarthy said.
A duel candy/ice cream shop, the Sweet Spot certainly lives up to its name. Behind the counter, rests 32 flavors of ice cream. Cold drinks are also available in coolers next to the counter.
The Sugar Rush table is covered with all kinds of candies. From old-school options like Mary Jane's and Swedish Fish, to novelty items like chocolate seashells and Ring Pops, the Sugar Rush provides enough candy to satisfy any sweet tooth.
A personal favorite of McCarthy's is the three-foot long gummy snakes. "Kids try to pull out the gummy snakes and they're just so surprised when the snakes keep getting bigger and bigger," McCarthy says.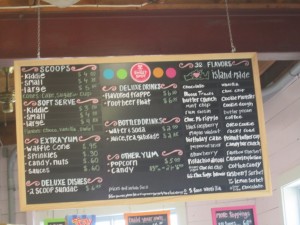 Among the ice cream, some of the popular flavors include caramel explosion, cotton candy and cookie dough. The cotton candy ice cream is particularly recommended; this pink and blue ice cream with optional confetti pieces is a delicious treat that's different enough from the typical ice cream flavors.
"All our ice cream is Massachusetts made, which is something that differentiates us from some of our competitors," McCarthy says.
There are also specific ice cream options for people who are looking for low-fat or sugarless ice cream. Frozen yogurt is also available upon request.
With some past experience in retail, McCarthy has a special appreciation for the simplicity of an ice cream shop. "It's fun selling ice cream, with ice cream you're basically selling happiness. Everyone leaves happy with ice cream."
More Info
12 Circuit Ave. Extension, Oak Bluffs, MA 02557, 508-687-2022