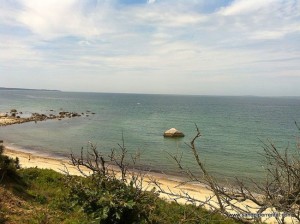 By Johanna Bernhard
The sign pointed towards Marl Pond. It was a swamp. The stagnant green water that had been absorbed by a thick layer of grey fungus, was swarming with insects. We crossed the narrow plywood bridge with caution. Falling into the slime would either have resulted in sudden death or a serious illness.
The remainder of the hike through the Great Rock Bight Preserve in Chilmark encapsulated a summer in Martha's Vineyard. The grey sand beneath our feet was no match for the rain forest that surrounded us. The tall specimen trees and grassy fields were glowing. It was as though someone had cranked up the contrast of a National Geographic photo.
The trail was steeper than some of the other hikes on the island. Certain hills had been reinforced with makeshift wooden stair structures and railings, with a bench at the top to allow people to catch their breath.
The last staircase we encountered led us down to Vineyard Sound beach. The sand was untouched and apart from three crows, the beach was deserted. We dug our toes into the sand as we approached the shoreline. In the distance I could see Great Rock. There is a summer tradition on the island to swim out to the rock and climb up onto it, battling the strong current underneath. Challenge accepted…once the water warms up.