by Diane Alter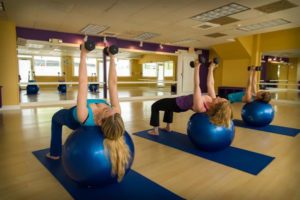 It's easy to let your fitness workout slip while on vacation. After all, vacations are all about taking a break from normal routines. But staying fit while visiting the Vineyard can be more fun—and important–than at home.
While the Vineyard offers a multitude of outdoor activities, sometimes the weather just doesn't cooperate. And as any dedicated gym rat knows, it can be difficult to get in a good workout while taking in the island's spectacular scenery or with kids in tow.
Indeed, a trip to the gym while on vacation for many is a way to get an hour or so to themselves.
The Mansion House Inn Health Club and Spa is an ideal place for visitors to experience a great workout in a state-of-the-art gym.
Open to the public seven days a week from 6 a.m. until 9 p.m., the Mansion House Inn Health Club and Spa is conveniently located at 9 Main Street in Vineyard Haven and offers the best in new and modern equipment.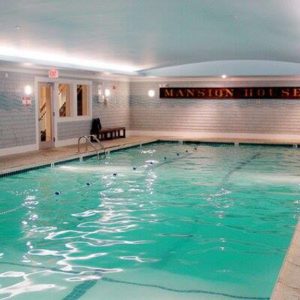 Equipment includes: two recumbent bicycles; two upright bicycles; five treadmills; a number of rowers; and 13 Life Fitness group exercise bikes in a separate group cycling room. The club also has a modern cardio room, circuit room and free weight room.
Aerobic and yoga rooms are pleasingly private sunlit spaces. Yoga mats are provided for all classes.
The club's aquatics center offers a large spring water, Red Cross compliant, swimming pool maintained at a comfortable 83 degrees. The pool has a lap lane and handicap lift. A pool side shower is available.
Also available are private trainers for one-on-one training and supervision by contact. And all class instructors are skilled and professionally trained.
Men's and women's locker rooms are super clean. Private and family dressing areas and showers are also on site. Day, weekly, monthly and year round passes and memberships are available. All classes are included with passes and memberships. Rates are extremely reasonable.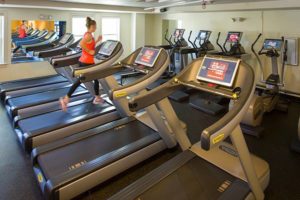 The importance of exercise cannot be overstated. Regular workouts strengthen muscles, bones and the heart. Consistent exercise also lowers blood pressure and helps keep the weight off. With all of the island's fantastic food, excellent restaurants, and irresistible ice cream shops seemingly everywhere you turn, an hour or so at the Mansion House Health Club and Spa can help you indulge guilt-free.
Rates, class schedules and additional information is available online.
MORE INFORMATION
9 Main St
Vineyard Haven
(508) 693-2200
mvmansionhouse.com