Begin Your Kayak Adventure Near Little Bridge
by James Reagan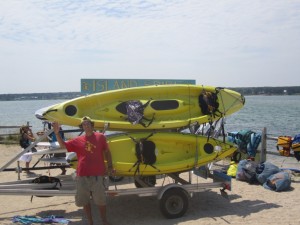 It's time to hit the beach and you're excited for a long day of fun in the sun. But even though you can lie in the sun for hours on end, why not consider trying something different today?
A great option for those who are looking to spend time on scenic State Beach is renting kayaks from Spirit Kayak. Located right by Little Bridge, Spirit Kayak enables both kayaking newbies and seasoned veterans to explore the waters of Sengekontacket Pond.
"We mostly do rentals. However, we also offer an optional beginners lesson just to ensure that people know basic kayaking skills," says kayak instructor Blair Rancich.
Choose to rent kayaks for your own private water party or join the fun with one of Spirit's guided tours. Spirit has two specialized tours; the 2.5 Hour Kayak Adventure which allows you to explore the island's wildlife and beaches at a leisurely pace. There is also the Sunset/Moonlight Paddle where you can use glow sticks to illuminate your ride.
In addition to kayaks, Spirit also has stand up paddleboards that are available for rental. Like with the kayaks, Rancich assures that the paddleboards are "easy to get a hang of."
A heavily recommended trip for paddle boarders is the LED SUP Adventure. For this nighttime adventure, high-intensity LED lights light up the water under your board giving you a look at what's going on the ocean below you.
Like with all other kayaking and paddle boarding opportunities offered by Spirit, the LED SUP Adventure is an overwhelmingly safe activity. "Sengekontacket Pond was voted the safest pond on the island," explains Rancich. "Even if you don't know much about kayaking, come on down and we can show you the basics."
The rentals can also be taken out of Sengekontacket and used all over the island. Even the ocean can be a good place for kayaking; Rancich stresses "the ocean is calmer when the wind is coming out of the south."
After spending some time out in the water, be sure to cool off with shaved ice at the Spirit Shack. The Shack offers shaved ice and also frozen lemonade, making it a perfect way to relax after your adventure on the water.