BY COURTNEY TAYLOR
Hi Bloggers!
As an intern for This Week on Martha's Vineyard, I will be blogging on thisweekonmv.com throughout the summer. I will be writing about everybody's favorite subject … food! And, if it's not already your favorite topic, it will be soon!
As a tourist on the island, it is my goal to explore as much as possible. This week I stumbled upon Blissed-Out Organic Cafe, a fantastic organic juice and smoothie bar on Main Street in Vineyard Haven. In addition to delicious fruit and green smoothies, the cafe also sells raw and organic protein bars, shake mixes, and green juices. I have been there twice and each time the smoothie I ordered was delicious and healthy. Blissed-Out makes their own unsweetened almond milk, which is what I think makes their smoothies so creamy.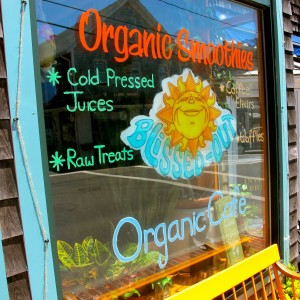 I thought it would be great to try to recreate the drink at home. Here is my own recipe for a healthy mango-raspberry green smoothie:
Mango-Raspberry Green Smoothie
1 mango
1 cup whole raspberries
1-2 cups fresh kale (or other leafy green)
1/2 – 1 cup almond milk
1 date
1 cup ice
Blend it together and enjoy! If you want to see how the pros make it, be sure to check out Blissed-Out!