Southern Kitchen Right Here in New England
by Ashley Amato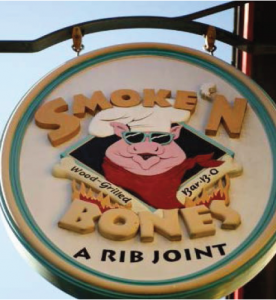 Smoke 'N Bones is all about authentic Bar-B-Q. Ribs right out of the smokehouse arrive on your plate with true southern sides, like baked beans and sweet corn. Made daily and from scratch, Smoke 'N Bones cooks up quality meats, from smokey spiced chicken to slow-cooked pork. The Boston Globe even deemed their Bar-B-Q to be one of the top five in New England.
Although they won't spill the secret of what goes into their dry rub or blended seasonings, head over to Oak Bluffs and taste it yourself. Meet Diana Osburn and Anna Cotton, longtime Smoke 'N Bones workers and Bar-B-Q fiends:
TW: How long has Smoke 'N Bones been on the island?
The restaurant opened in 1997.
What inspired this restaurant to open?
The original owner was really creative and he wanted to develop something different. We are unique because we are the only smokehouse on the island. But he was also really detail-oriented so he went really over the top with this place. The seating is made out of church pews and there are many other hidden details. Everything he did was really funky. He was just a visionary and had some really great ideas.
What is your most popular item on the menu?
Probably baby back ribs, or the Wet n' Dry Rib Platter. We also have beef specials like beef ribs or prime ribs. We have a call list for people who really want these ribs so they know when to come in. When the beef specials are in, people are the most die-hard about smoked ribs. The Wet n' Dry is both baby back and Memphis ribs. People like this because they often don't know the different types of ribs. The baby backs are smaller and wet, while the Memphis are bigger, meatier, and dry-rubbed.
Do you have anything new on the menu this season?
Home-made french fries. We cut them ourselves. They are really good!
What is your favorite thing about Martha's Vineyard?
For me, it's the beach.

MORE INFO
508-696-RIBS (7427)
Duke's County Ave., 20 Oakland Ave., Oak Bluffs
Open Everyday 5pm-Close