by Hannah Payne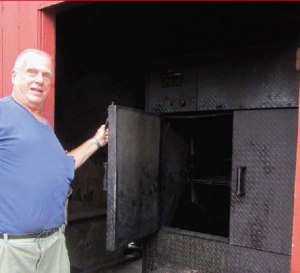 Located on Oakland Avenue in Oak Bluffs, Smoke 'N Bones brings authentic southern BBQ to the island. "We've just been voted number 4 for best barbeque in New England by the Boston Globe," shares co-owner, Stew Robinson.
Carnivores — choose from smoked chicken, pulled pork, chopped brisket, slabs of babyback ribs, and more. The generous helpings are big enough to feed an army. Offering a range of traditional sides, Smoke 'N Bones wins over the regulars with fried okra, collard greens, potato salad, baked beans, corn bread, and coleslaw.
"We're famous for our homemade onion rings. Thinly sliced and served with our zesty dipping sauce, they're absolutely evil. You have to be careful not to go crazy," says Robinson.
Everything is homemade, including the delicious barbecue sauce. Hundreds of jars of the sauce are sold during the months of May and June. Kids like to give them to their teachers as gifts.
Each morning the finest hardwoods such as oak, hickory, apple and mesquite are used to slowly smoke the meats until they are tender and succulent. "We use a special blend of seasoning and spices for our dry rub, and we smoke between 5 to 7 hours depending on what we're cooking. You won't find the greasy bits here," promises Robinson.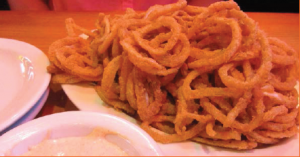 Every morning at 6:00, recipes begin from scratch. Stew is very attentive and makes an effort to have personal contact with as many of the diners as possible. Families have been coming back for years, and Stew greets them as if they were old friends. If you're lucky, you might meet Stew's daughter, 6-year-old Kaylee. Taking over her daddy's business, she enjoys greeting guests and taking drink orders.
The welcoming atmosphere makes it easy to feel at home, not to mention the tin pails that sit at the end of each booth, meant for bone disposal and trash. Smoke 'N Bones also caters to the children. For ages 12 and under, meals are available for only $8. Now, that's a steal! An order isn't complete without a killer slice of Key Lime Pie. Don't forget to ask about the dessert of the day! Hours vary by season. Presently, Smoke 'N Bones is open from 5 to 9:30. Reservations are recommended; the restaurant is known to fill up rather quickly.
Driving tip: It may feel as though you've gone too far up Circuit Avenue, but keep going for about 1/3 mile and Smoke 'N Bones is on your right (Oakland Avenue – Tony's Market is across the street.)
Don't forget to tell them This Week sent you and get a FREE half loaf of Onion Rings
MORE INFO
7 Oakland Ave
Oak Bluffs, MA 02557
(508) 696-7427
Open 5-9:30pm