Slip77 Connects Visitors and Locals with Vineyard History and Local Artisans
by Shannon Corcoran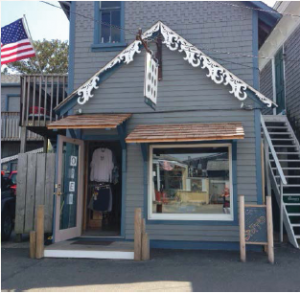 Fun fact of the day; in 1977, Martha's Vineyard and Nantucket considered becoming their own state after losing their guaranteed seats in the State House. This of course gained national media attention and the two islands received offers to become parts of Connecticut, Rhode Island, Vermont and New Hampshire if they wanted to become part of a bigger, already established landscape. Of course this never happened, but 1977 still remains a year in which some Vineyard locals will never forget.
Now, thanks to Jessica Lyon and Christina Izzo, the co-owners of Slip 77, a clothing boutique in Oak Bluffs, visitors and locals alike can now learn about this fascinating and rather unknown bit of Vineyard history while browsing for their next great clothing item.
Transformed from a menswear specific store and opened in May of 2012, the boutique is more of a display area for local artisans rather than the ever common high end makeshift department store. Filled with everything from unisex sunglasses made of wood to dresses with classic silhouettes but with some pop to them and well-tailored shorts for the men out there, Slip77 has fully delved into creating a space for every type of shopper no matter what their taste is.
"We want our customers to think of Slip77 as a lifestyle brand, to know that they'll find a mix of unique pieces and high quality apparel exclusive to our store that fits their needs," said co-owner Jessica Lyon.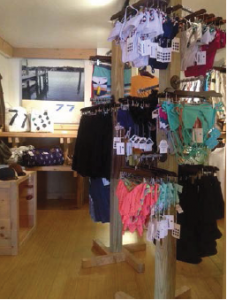 Quality pieces that will last forever are certainly found in the shop. Though that's definitely a selling point, what truly makes Slip77 stand out from the rest of the island boutiques is the passion for supporting island designers. The majority of the pieces found in the store are island made and are hard to come by if shoppers aren't intentionally seeking out the specific artisan. For those that live off of discovering unknown designers, Slip77 eliminates the dependence on attending flea markets and creates a one stop shop for even the most underground fashion taste buds.
Like most island stores, Slip77 was faced with the challenge of catering to consumers desires to have a shirt with their logo and Martha's Vineyard on it. While most fail to create a wearable garment doing just that, the boutique excelled; creating a line of pieces including tank tops and hoodies that are ready to wear for any type of weather and occasion with the right accessories.
"When it came to making our logo t-shirt, we still wanted quality to be our number one priority and come up with something that customers would want to wear off of the Vineyard," said Lyon. "The last thing that we were going to do was slap our logo on a garment and call it a day."
As a whole, Slip77 is every shoppers dream; a store filled with gorgeous and handsome, for the men out there, wearable works of art in the center of the island. The garments and accessories support locals and while on the hunt, visitors also get to discover a fact about the Vineyard that most are totally unaware of. It's history and shopping combined into one; let's hope that alleviates some of the guilt that we'll all feel after purchasing the majority of our fall wardrobe from there.
MORE INFO
28 Lake Ave, Oak Bluffs
Hours: 10am-10pm, 7 Days a week
508 687 9975
slip77.com