Traveling to the Vineyard on a Budget Isn't Easy, but Skinny's Fat Sandwiches Has it Covered
by Elyse Brightman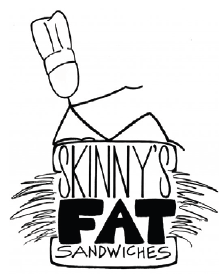 With one of their two locations being in downtown Edgartown, it's a great place to stop and grab a quick lunch and not interfere with a busy day. The menu is full of overstuffed sandwiches, wraps and salads with a variety to please the whole family.
Specialty sandwiches on the menu include the popular Turkey Gobbler described as "Thanksgiving dinner on your choice of bread with a side o' gravy" or The Bomb with steak, cheese, sautéed mushrooms onions and peppers. Some classics include roast beef, BLT or a tuna melt on your choice of white, wheat, rye, sour dough, bulky roll, wrap or sub roll. Ask for a "manwich" and get double the meat.
There are also options of healthy wraps, like the Hummus wrap with Skinny's own roasted garlic hummus added to the veggie wrap and the Portobello wrap with roasted, marinated Portobello's and goat cheese on the veggie wrap. Salads offered include everyone's favorites Caesar or Cobb, but there's also Skinny's Fat Salad with chopped green leaf lettuce, tomato, cucumber, carrot, and red onion with Skinny's vinaigrette. A choice of grill or fried chicken, turkey, chicken salad, tuna salad, tofu salad or egg salad can be added for a small fee.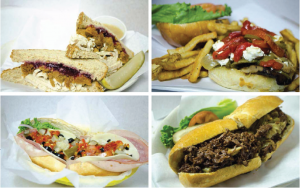 Skinny's opens at 8 a.m. daily during peak season hours and also serves breakfast, but call for an exact closing time. Seating is limited which makes it the perfect grab and go lunch option. After lunch, just step across the room to Mad Martha's Ice Cream for a chilling dessert on hot summer days.
MORE INFO:
7 North Water Street, Edgartown
508-627-6990
cash only
12 Circuit Avenue, Oak Bluffs
508-693-5281