A Bang for your Buck
Skinny's Fat Sandwiches are an Island Favorite
by Hannah Payne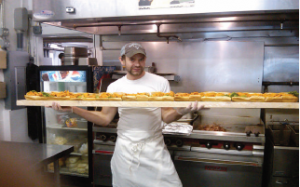 With a menu created to please even the pickiest of eaters, Skinny's Fat Sandwiches is certainly equipped to be an Island favorite.  Owner and cook, Alex King, has spent ten years adding to and perfecting Skinny's menu.  Ranging from tofu salad wraps to cheeseburger subs to fried dough rolled in cinnamon and sugar, the countless options are assured to meet the cravings of the diverse crowds on the island.  Caring deeply about customer satisfaction, King hunts for the freshest produce and most tender of meats. The service may be fast, but their food is gourmet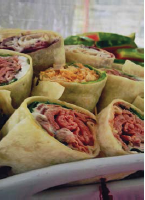 quality. Located in both Oak Bluffs and Edgartown, stop by for generous helpings and a friendly atmosphere. Skinny's will not disappoint.  A few doors down in Oak Bluffs, grab a beer and claim your seat for the game at the Lampost!
Join This Week as we step into the kitchen to ask King a few questions.
TW: How long have you been working here on the island?
AK: For about 10 years, or 10 seasons you could say.
TW: How did you get started cooking?
AK: When I was 14, I applied for a busboy job, and they ended up offering me a prep cook job.  Basically, all I did was shuck oysters and peel shrimp for a year.  Then, I moved up through that company for the next 4 years through high school.
TW: Have you had any other experience in the kitchen?
AK: I've done fine dining my whole life after that first job in Boston.  Skinny's is the first place where I stopped with fine dining.
TW: If you weren't cooking in a kitchen, where would you be?
AK: Where would I be? I don't know.  I think I would be an architect.
TW: Do you cook at home?
AK: If I have a girlfriend, I will.  If not, I don't even bother eating at home. I work all day, you know what I mean?  My fridge is pretty bare.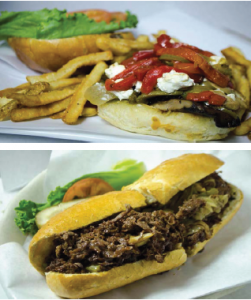 TW: What seems to be the most popular item on Skinny's menu?
AK: Probably the buffalo chicken sub or the chicken caesar wrap.  It really depends whether it's hot or cold outside. During the winter, it's all steak and cheeses and cheeseburger subs.  It's different day to day.  The hippie crowd that comes in will grab tofu wraps or hummus wraps.  It depends on the demographic.
TW: Do you meet a lot of interesting people that come into your shop?
AK: I do.  Now is a good time to meet people because it's slow, and I have time to talk.  I like getting to know my customers.
12 Circuit Avenue                               7 North Water Street
Oak Bluffs, MA 02557                       Edgartown, MA 02539
508.693.5281                                      508.627.6990
8am-10pm                  
Cash only