Shark Shack a Hit First Summer on State Beach
by James Reagan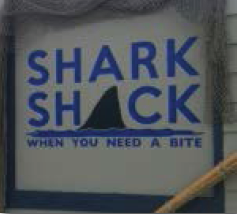 Whether jumping off the famed Jaws Bridge or soaking up some rays in the sun, State Beach remains a great place to spend any beach day. But as great as the hot weather is, sooner or later there's going to be a desire for a cool drink or snack.
Located right next to "Big Bridge," the Shark Shack is here to provide refreshment for tired beachgoers and passing cyclists alike. "We've got a really great location both for people that are biking or people hanging at the beach," says manager Shane Murphy.
New for the summer of 2013, this food truck is provided by Nancy's Restaurant in Oak Bluffs and offers a sampling of menu items from the actual restaurant. Most of the items offered are snack or lunch items, not necessarily the oysters or Dirty Bananas that Nancy's is known for. Instead at the Shark Shack, you'll find food like lobster rolls, regular hot dogs and also chili-dogs.
Frozen drinks are also in demand here, with a variety of soft drinks available including frozen Coffee Mocha's. Perhaps the Shark Shack's most famous menu item is their ice cream sandwiches. Available in either chocolate chip or peanut butter flavors, the sandwiches consist of two large, fresh-baked homemade cookies with delicious ice cream sandwiched between it. "The ice cream sandwiches are a unique addition to a typical food truck menu. They appeal to the beach-goer and passer-by alike, and are a nice complement to a lot of the menu items people will be excited to see from Nancy's restaurant and snack bar now available to them at the beach." -Doug Abdelnour Jr.
At $5, the sandwich justifies its price thanks to the massive size of the cookies and the quality of the ice cream. "The ice cream sandwiches are also unique in that we cater to people with gluten or peanut butter allergies by providing tasty alternatives for them," says Murphy.
Another thing that differentiates the Shark Shack from the standard food truck is that they sell some practical beach supplies in case you missed anything on the way out of the house. Ice bags are available to cool your own drinks for $3 and sunscreen spray is available for $2. And for those rainy beach walks, you can purchase a poncho for $5.
The Shark Shack will be open for the remainder of the summer, with Murphy determine to stay open "as long as it's light and there's people on the beach." Usually the daily hours run from 11:00 a.m. to about 5:00 p.m. "Overall, I just think it's a great spot. When you're on the beach and you're hungry and thirsty, come here and we'll take care of you," Murphy says.
Located next to Big Bridge on State Beach
Open everyday 11-5