by Hannah Payne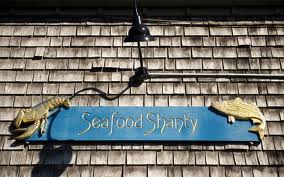 On a Thursday night at the Seafood Shanty, you will find a crowd quickly shuffling up the stairs to participate in the night's activities. The restaurant has opened its doors to another season of Thursday night entertainment. "At 10:00, we take all the tables and chairs down from upstairs and open up a dance floor. A DJ sets up, the music gets loud, the lights go down, and it's basically a big dance party," says Matt Byrne, creator of Thursday Theme Night.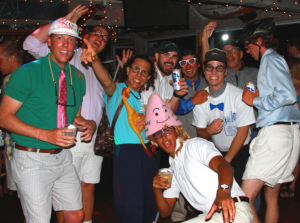 The idea was born 3 years ago when the Seafood Shanty hosted a Labor Day Luau. The owners of the restaurant had collected a handful of t-shirts and props to pass out to late night customers, a little token of appreciation. The night's success sparked a Fourth of July party, which became an annual tradition. Beginning last year, the Seafood Shanty started to host a weekly Thursday Theme Night. This year, the season opened with a nerd themed party on June 27. "We've tried to come up with some fresh ideas for our customers. We want to provide them with something new every year. A lot of the ideas don't even come from me. Sometimes they come from our customers, DJs, or employees," shares Byrne.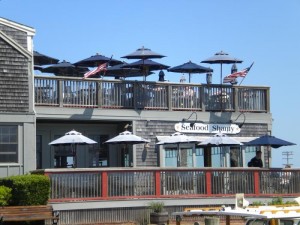 For guests who prefer a quieter, more relaxed environment, the outside deck is also available. Grab a drink, sit down, and enjoy the beautiful view. "We're hoping for the same crowd we had last year, as well as new faces. I mean, the more of these parties we do, the more people talk about them and the more people show up from year after year. We're hoping to expand our late-night business as much as possible," says Byrne. The restaurant's kitchen closes at 10pm; however, the Quarter Deck remains open until last call. Byrne promotes leaving with a full stomach: "You can drink here all night long, and then grab a cheeseburger on your way out the door."
Stop by tonight for the 4th of July party! The Seafood Shanty is one of the few restaurants that you can see the fireworks from, so they stay full to capacity all night long. Watch the fireworks right off the deck! Round up your family and head down early to score the perfect seats.
Next week, the Seafood Shanty will be introducing a new theme to the season. Mark your calendars for Livestock 2013. Expect to see bales of hay and a swarm of animal costumes.
If you want to check out the themes for upcoming parties, go to: www.facebook.com/TheSeafoodShanty