Music and a view of Edgartown Harbor from the Seafood Shanty's outdoor seating
by Elyse Brightman
On a sun-drenched day there's no better place to enjoy lunch or dinner than the Seafood Shanty on Dock Street in Edgartown. Sit in either the downstairs dining room or the upstairs patio, but take in the same amazing view.
"We have an unsurpassed view of Edgartown Harbor," say general manager Shepe Arias, "there's no other like it on the island."
Diners can enjoy a view of the Edgartown lighthouse and the Chappaquiddick ferry mechanically traveling back and forth. Though each setting offers the same menu, they have different atmospheres.
"The upstairs deck is more of a casual hangout, but downstairs is more of a nicer dining area," says Arias, who's been the general manger for the last 15 years.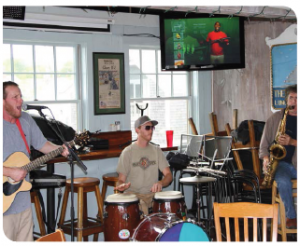 Whether inside or out, watch the Red Sox game from one of their 18 flat screen TVs or come for the live entertainment on weekends. The weekend starts on Thursday with DJ Ricky Prime playing dance music from 10 p.m. to close, followed on Friday with DJ Mateus and Saturday with DJ APall playing in the upstairs bar. Sundays are a little more laidback with acoustic trio Morgan Reitzas playing island tunes on the upstairs deck from 3-6 p.m. Keep an eye out later in the season for musicians Mike Benjamin and Drew Arcoleo playing Sunday afternoons.
They also have a sushi bar with classic favorites like the spicy tuna roll and some chef specials like the Martha's Vineyard roll with raw tuna, salmon and yellowtail with a spicy mayo and the Shanty roll with eel, avocado and a spicy mayo topped with salmon.
One of the most popular menu items at the Shanty is the lobster quesadilla appetizer. It's six pieces of lobster meat, sautéed bell peppers, onions with cumin, cayenne, salt and pepper with cheddar jack cheese between two flour tortillas cooked on a flat top grill until crispy golden brown and served with sour cream and fruit salsa.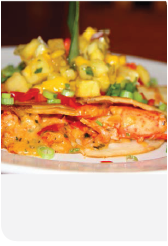 The Shanty has added a few new items to the menu this year, like the prosciutto draped cod or the grilled mahi burger, a six ounce mahi fillet grilled with Cajun spices with a chipotle aioli, lettuce, tomato, and a pickle served on a bun.
This harbor view restaurant has a diverse menu to please everyone in the group with a view that no one will complain about. While there, be sure keep an eye out for the other newest edition, the Shanty puppy, Eddie.
Open for lunch and dinner
31 Dock St, Edgartown
508-627-8622
www.theseafoodshanty.com