by Colin Stoecker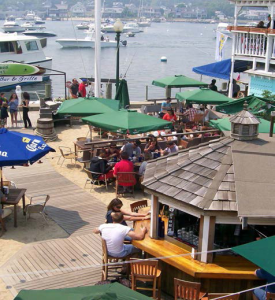 At the Sand Bar, the atmosphere is at the forefront of any outing, meeting, or spot to catch a relaxing drink with friends. On Oak Bluffs Harbor, there is no better place to go after disembarking from the ferry, and no closer beach than the Sand Bar and Grille. Boasting the island's only beach bar, dig your toes into the sandy ground, while listening to music under an umbrella table in the sun, pull up a chair at the bar with the wooden decked floor, or relax inside the shade of the indoor sushi bar and catch the game on any of the TV's.
The food at the Sand Bar is excellent; take it from April Greene, the assistant manager, Chef Don, Sushi Chef, Dion Trujillo, bar manager Tiffany Lutke, or even the general manager, Troy Nuenburg.
The Sand Bar is not only a relaxing joint with comfy beach chairs and umbrellas, but Chef Don doesn't mess around.
A popular choice on the menu is the Sashimi Wrap, or "seared Ahi tuna with fresh cucumbers, shredded carrot, seaweed salad & pickled ginger. Rolled in a soft flour tortilla with wasabi and soy-lime glaze." The beer battered fish and chips are also, the real deal, and are served with old bay chips. The chips are actually chips, not an Englishman's sorry excuse for French fries, and they are seasoned with old bay.
The Cabo Burger has been a big hit so far this season, consisting of "seasoned Angus beef topped with pepper-jack cheese fried jalapenos, fresh avocado and pico de gallo."
New this summer too has been the Late Night Sushi Happy Hour, from 10pm to midnight every night! Headed by Dion, who likes to be known simply as "Uncle Sushi," the sushi crew Kelly, Dean, and Ariel assist him to whip up these amazing sushi deals late into the evening and past the time when most kitchens close and restaurants stop serving food to patrons.
April comments about the Late Night Sushi Happy Hours that "it has been a huge hit so far this season, and in conjunction with the Bruins games, it has been really keeping us going on even some slower weekday nights." With a whole lot of local and microbrews on tap, the bar at the Sand Bar and Grille is manned most nights by bartender, Jim Gibson. "He is an island local and knows many of our regulars, and he also makes good drinks!" April adds.
As if Sushi Happy Hour under the moonlight wasn't enough, the Sand Bar and Grille hosts a lot of parties and events all summer long, some of which even raise money to benefit the community.
Last week the Sand Bar and Grill held a ping pong tournament titled, "Ping Pong en la Playa II" to benefit the Juliet Burkett Scholarship Fund. There were men's and women's brackets, as well as youth brackets for ages 9-12 and 13-16. Troy Nuenburg called the benefit "a great hit! We had a bunch of people in here playing ping pong and enjoying themselves, and it helps to benefit the community."
An island favorite has been the recent Full Moon Parties, which have been happening around the full moon and super moon. The Sand Bar has been quick to capitalize on this lunar spectacular to bring more clientele to the bar, and more of an outlandish atmosphere to the moon soaked awnings and the sand floor. In the past, the Sand Bar has had themed parties like the Full Moon Party, but with Zombies! This weekend coming up is another full moon party, (check this) and "shark weekend will be insane here" says April assistant manager, "there will be people packed shoulder to shoulder in the whole place!"
So if you're still hungry after the kitchen closes at your other favorite dining establishment, head on over to sushi happy hour, split a number 48, "Uncle Sushi Style,"— "double edamame sautéed with garlic, ginger, scallions, and topped with Chef Dion's awesome Sauce." Oh an don't forget to bring your friends, but while enjoying the sand between your toes and moonlight with friends responsibly, be careful not to walk right into the harbor on your way out.