Sand Bar and Grille in Oak Bluffs offers up American Coastal cuisine and is the island's only true beach bar.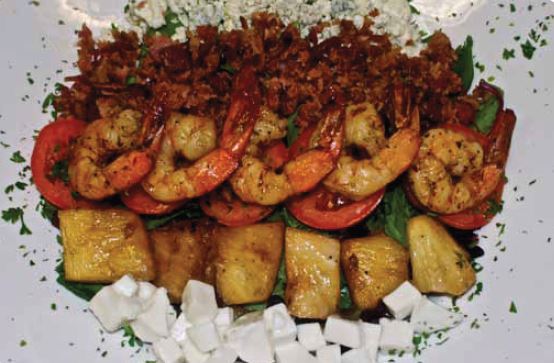 Sand Bar and Grille is the only island locale that offers the atmosphere of a day at the beach but instead of bologna and cheese sandwiches they serve from a full restaurant menu prepared by one of the island's top chefs and kitchen staff and served to you by the Vineyard's friendliest bartenders and servers. Their harbor side seating area puts you out in the open air where you've got sand under your feet, good tunes in the air and a waterfront view of Oak Bluffs Harbor right in front of you. Pick an entrée off of the American Coastal menu or a few Maki rolls from their sushi menu and wash it all down with one of their famous 3 Hour Tour frozen drinks—32 ounces of blended goodness.
Sand Bar's décor brings a sense of beach nostalgia with old beach cruisers on display amongst beachfront business signs and a vintage Coca-Cola Vendo machine. They've recently added a Ms. Pac- Man/Galaga arcade machine that takes a quarter to play. It's like being back at the arcade of your childhood beach.
Sand Bar prides itself on offering a wide range of foods. One section of the menu is called 'Tacos, Wraps & Quesadillas' and offers up some exciting items like The Original Fish Tacos and the Sashimi Wrap—the latter made with seared Ahi tuna. Sand Bar and Grille also serves an array of baskets and sandwiches like the Real Fish-n-Chips, the Sandbar Po' Boy and the Cabo Burger
Executive Chef Don Vilain brought his recipe for his award winning Clam Chowder that adds applewood-smoked bacon into the classic and creamy New England staple. His name also appears on the menu next to the Cobb Salad which is assembled with romaine and m i x e d g r e e n s , fresh buffalo mozzarella, Roma tomatoes, g r i l l e d pineapple, applewood smoked bacon, crumbled blue cheese and Jerk-grilled s h r i m p . Chef Don's Cobb Salad is built to be served at an island bar and grille. The restaurant also gladly caters towards families by offering a full menu named the Kid's Tackle Box and a range of foods to please every member of the family. The menu does have a lighter side to please vegetarians as well like the "Eat Ur Veggies" Burger and soups, salads and veggie wraps.
Sand Bar is also a great spot to grab a late-night bite as they offer a reduced menu all the way until last call for alcohol. On those nights when you come in to enjoy the island's best bartenders and dance the night away you can make sure to keep your stomach full with items like the American Burger, Chicken Quesadilla, Fried Calamari and more.
Sand Bar and Grille
6 Circuit Ave
Oak Bluffs, MA 02557
(508) 693-7111