by Shannon Corcoran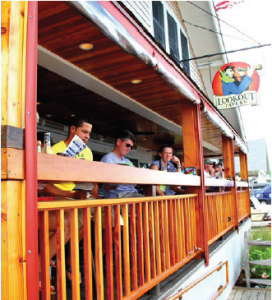 Up the street from the hustle and bustle on Circuit Avenue in Oak Bluffs lies a restaurant that defines what life is like on Martha's Vineyard; quaint yet vibrant and accompanied by a stunning view of the Vineyard Sound.
Located on Seaview Avenue, The Lookout Tavern has both a great atmosphere and incredible food. From the moment guests walk through the door to their last sip of their drink or bite of their food, they feel welcome. This is largely due to the wait staffs impeccable service and willingness to do anything that they can to accommodate every diner.
As great as the service is, it's the menu that truly makes this eatery unlike any other on the island. Diners can feast on classics such as Caesar Salad loaded with dressing and the rainy day staple Tuna Melt Panini or be bold and try the Clam Roll; a delicious serving of clams on a hot dog bun. Of course, you can't have a dinner on the waterfront without a few good drinks to compliment the view, so The Lookout also has an extensive selection of drinks that will please everyone's palates. From a nice cold pint of Coors to a perfectly crafted Margarita and everything strong and sweet in between, sometimes you just have to tell yourself that its 5 o'clock somewhere, as Jimmy Buffet would say.
"Our most popular item on the menu is the sushi," said Mike Santoro. "It's some of the best on the island and everyone that orders it loves it." The sushi that Santoro is talking about is prepared right in front of the diners by the tavern's incredible chefs and is made with only the best fish, just like the rest of the seafood dishes served. The ultimate highlight on the menu is the Lobster Tacos. Loaded with delicious meat and topped with a light corn aioli dressing, the meal is both filling and refreshing and a dream come true for any lobster lover.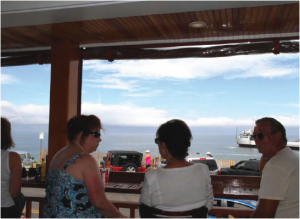 After spending the day at the beach or wandering one of the islands incredible towns, there isn't a better way to wind down than eating a great meal and watching the boats head out of Oak Bluff's Harbor with friends at The Lookout. The restaurant's welcoming atmosphere and stunning view of the sound truly sets itself apart from the other island eateries, and with flat screen TVs on nearly every wall, The Lookout is also a great place to watch your favorite sports teams play a game on a mellow Vineyard evening.
Whether you're just in the mood for a quick drink or want to eat a delicious meal with friends, The Lookout Tavern is a sure bet for a good time. "Ultimately, we want diners to count on The Lookout Tavern to always show them a fun time and serve them delicious food and drinks," said Santoro.
MORE INFO:
Open Monday-Saturday, 11am-12:30am
8 Seaview Ave, Oak Bluffs
(508) 696-9844
lookoutmv.com