MV Ocean Sports Provides a Fun-Filled Afternoon
by Hannah Payne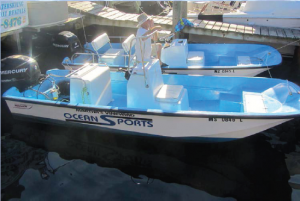 A whaler is a 17' boat available for rent at Martha's Vineyard Ocean Sports, located in the harbor of Oak Bluffs. Equipped with a 90 HP Mercury outboard motor, these vessels can carry a maximum of 6 persons, making it ideal for a family event or a gathering of friends.
Whether your interest lies in a day of fishing, a picnic and a swim, an afternoon of sightseeing, a private sunset cruise, or just the thrill of being the captain at the wheel, this is the rental for you. No experience is necessary. A brief overview from the staff will have you throttling out of the harbor in no time (even though it's a No Wake Zone).
Boating is a favorite pastime on the Vineyard, enjoyed by people of all ages, backgrounds, and physical makeup. The calm waters of State Beach are a perfect place to drop anchor and enjoy a swim. If fishing is your game, BYOB – Bring Your Own Bait (and tackle). Don't hesitate to bring food and drink for all; coolers are provided in each vessel. After hauling in your catch or taking a break from your swim, you'll be ready for refreshments.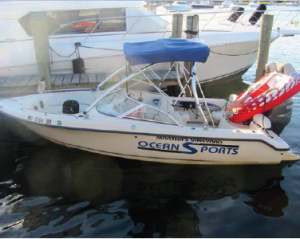 Take in the beauty of the Edgartown Lighthouse or swing by the Jaw's Bridge to watch the daring jumpers. Experience a new appreciation for the sites and towns from a waterfront view. The Whalers are available for rent by the hour. Receive a lower rate during the Early Bird Special (8am-10am). The boats can also be reserved for half a day (4 hours) or for a full day (8 hours). Three Whalers are available, so hurry and make your reservation today!
MV Ocean Sports also offers boat rentals for the following water sports: skiing, wakeboarding, kneeboarding, and tubing (single or double). Banana boats are available as well as boats for parasailing. All gear and equipment is provided.
Boston Whaler Rental Rates:
$165/hour
Early Bird Special
(8am-10am) — $135/hour
Half Day — $400/4 hours
MORE INFO:
mvoceansports.com
508-693-8476