The Quarterdeck: Satisfying Customers For More Than 30 Years
by Hannah Payne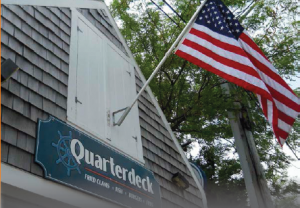 Finding a place to eat can often be a challenge, especially when taking in the frank opinions of our adorable yet picky offspring. For the perfect amount of variety, stop by the Quarterdeck in Edgartown.
Surrounded by streets full of charming shops, the Quarterdeck sits feet away from the scenic Edgartown Harbor. Built to resemble a concession stand, the Quarterdeck is seldom found without a crowd of people shuffling to the cash registers.
The menu ranges from the typical island selection (clam chowder, fish and chips, lobster roll) to delectable fair foods (chili dog, onion rings, corn dog) to New York specialties (sauerkraut dogs and reuben sandwiches). The corn dog has been voted best in New England. When asked about the recipe, manager Kristen Jenkinson says, "It's top secret. All I can tell you is this – our corn batter is homemade and pretty phenomenal."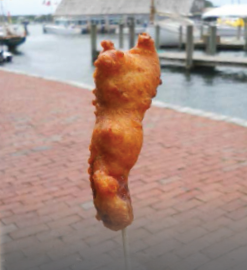 A chalkboard is positioned on the left wall that displays the daily specials. Examples of the dishes that get plugged into this rotation are the Pizza Burger and the Buffalo Chicken Roll. The Pizza Burger consists of mozzarella sticks, pepperoni, and a hamburger patty served on a hamburger bun. "Our fried clams are a huge hit, and we are also known for having amazing burgers," shares Jenkinson. Popular picks for children are the popcorn chicken, hot dog, grilled cheese, and hot chocolate. Experiment with dessert and try a deep fried oreo with a soft serve twist.
Everything is made fresh and to the order, so you never have to worry about soggy fries. Last stop for food before you reach the Chappy Ferry, give in to the temptation and enjoy a tuna melt or an order of clamcakes as a farewell meal. Now extending their hours, the Quarterdeck is open until 1 in the morning on Thursday, Friday, and Saturday. "Our business is successful because we offer great food at reasonable prices. Our service is fast and friendly. Everyone from the owners to the employees is involved in making sure everything is running smoothly. Our work team is full of amazing people, which provides a fantastic work environment. Some of our customers have been coming for over 30 years," gushes Jenkinson.
The Quarterdeck does not offer seating, but benches line the brick walkways that border the harbor. Don't forget to finish your order with a handful of duck feed for only a dollar. You can always count on a few eager ducklings to be waiting for your generous handouts.
MORE INFO
29 Dock St
Edgartown, MA 02539
(508) 627-5346 • CASH ONLY