Quick and affordable, The Quarterdeck will not disappoint when it comes to a delicious meal and fantastic service.
By Mary Zedalis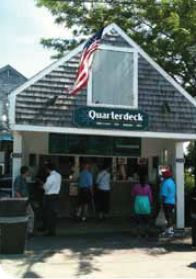 To be able to sit and eat at a place with a water front view is on the top of many Island visitors' lists, wanting a place where they can create a one of a kind dining experience. The Quarterdeck delivers on just this. Without breaking the bank with very reasonable prices, this restaurant is only steps away from some of the Vineyard's best views, offering you a chance to sightsee and eat all at the same time.
Settled just off the main street in Edgartown, on Dock Street to be exact, the Quarterdeck is like many of the island's converted clam shacks with worn wood siding, large takeout windows and their massive menu sign hung above. With such easy accessibility, visitors get a feel of a fast food establishment but with charm and charisma. Open from 11:00 am until 8 p.m. The Quarterdeck makes it fast and easy to enjoy good eats for a perfect Martha's Vineyard beach day or for a stroll through historic Edgartown.
For many returning visitors to the Vineyard, their time here is not complete without a meal from this quintessential foodery. For Mary O'Connell and her family this proved true as she told me, "Each summer we come back, the Quarterdeck is always our first and last stop. For us, we like to think of it as a welcome to our vacation and also a goodbye. We've loved bringing our kids here, to grab some clam strips and lobster roll and eat over at the Memorial Wharf so that they can watch the boats come in to the harbor."
As you walk up to the take out windows, you may not yet understand what makes the Quarterdeck special. however, as soon as you are greeted by one of the friendly employees you quickly realize how this establishment is not just about great food but also is about exceptional service. Talking to you with an easy going attitude, cracking jokes and asking about your day, each employee grants individual attention that makes you feel like you've known them for years.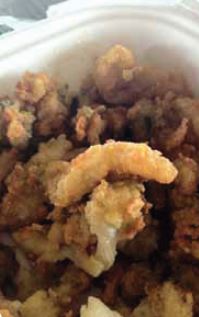 In taking a look at the menu, the choices are endless and all so tempting that it may take you a few minutes to decide. From fried seafood to salads and burgers, it's hard to imagine that a person could not find one thing they like. If wanting to go with a burger, try the Colossal Burger. Served like a hearty club sandwich with bulky roll, this burger comes with toppings that make any mouth water like cheese, onion rings, tomato, and gravy-like sauce that is made with a combo of mayonnaise and barbeque sauce.
If looking for seafood, be sure to try the fried clams. Known as having the best fried clam strips in town, this meal is not like others you can find on Martha's Vineyard. With a light and airy flour coating, these clams don't contain all that heaviness and greasiness that often looms in your stomach for hours afterward. Follow this up with either a Deep Fried Oreo or Fried Chocolate Chip Cookie, and you have a unique desert that you probably won't find elsewhere on the island.
So what are you waiting for? Come down to the Quarterdeck and grab a excellent meal on the go. Whether you are walking around town, going to the beach, or traveling the rest of the Vineyard, the Quarterdeck is a perfect choice to ensure full bellies while you and your friends and family create unforgettable memories, all for an affordable price.
Quarterdeck
29 Dock Street Edgartown
(508) 627-5346