By: Colin Stoecker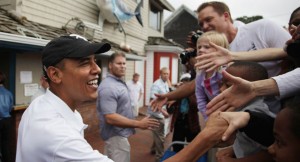 While President Barack Obama has the entire island of Martha's Vineyard up in the air about his impending arrival, his vacation to the island begs the question of whether or not presidents deserve to vacation like the rest of us?
Of course they do! And the Vineyard has always been a place where anyone, including celebrities, and even presidents can come and fall peacefully into the backdrop of island life as they enjoy what it feels like to be a real person again.
It has been a longstanding tradition that presidents play golf while on vacation, and Obama will enjoy a round of golf at both of the Vineyard's premier golf courses, Farm Neck and The Vineyard Golf Club.
The presidential visit has also raised some questions about island transportation, and how there will be room at the Edgartown triangle (intersection of Vineyard Haven-Edgartown Rd. and Beach Rd.) for even more secret service SUV's, camera crews, and limousines, not to mention local police and busses full of tourists. We all dread the especially over eager visitor swerving all over both lanes on a rented moped staring only at their iPhone as they press record and hope to capture a video of the Obamas for immediate uploading to Youtube.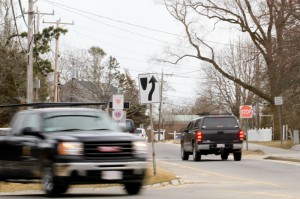 But believe it or not and even if you forgot to delete all of those old pictures of Oak Bluffs and the surrounding landscape to make room for longer videos of the president's envoy, don't worry,  the press is here prepared to provide excellent coverage of the presidential visit for you!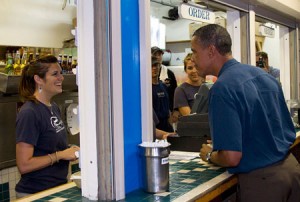 Many of representatives, reporters, and camera crews from the major news stations are actually staying at the Fallon in Edgartown, the downstairs of which is an excellent French restaurant, named Le'etoile, where I work. I discovered this from one of the sous chefs this morning when I asked her what all of the cars were in the driveway out back, she mentioned to me that all of the license plates were from Washington D.C. and Virginia and it had to be people here to cover the presidential visit.
All in all, we hope that someone will be able to capture at least a short clip of the Obama's enjoying themselves and upload it to Youtube.com so we can all witness our president enjoying some much needed time away from the worries of the world.
Everyone can agree that the Vineyard is the best vacation spot in the Northeast, if not the whole East coast, and maybe even the whole country. If it wasn't, then I'm sure Obama wouldn't bother coming here with his family at the most crowded time of the year.
In August though, when the Vineyard's population swells to brimming with over 70% tourists and about 30% residents, local businesses aren't complaining, and everyone couldn't be prouder that Obama chose the Vineyard over many other promising vacation destinations this August with his family.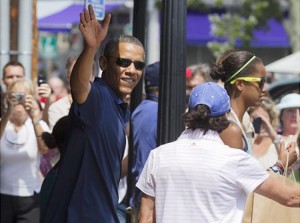 Be sure to stay tuned for more updates on the presidential visit!