by Colin Young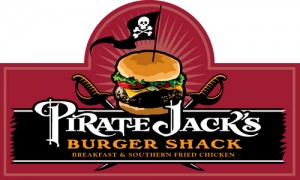 When you arrive on the Vineyard It won't take you long to notice that there is one thing the island does not have – and you will miss it. The Vineyard is packed with eateries of all types and flavors but long ago the powers that be decided to stop the spread of fast food at the mainland and not allow it to flourish on our soil.
That is until Pirate Jacks came along last year and not only promised to deliver our favorite burgers and fried chicken combos but deliver it "fast". Pirate Jacks has arguably the best burgers on the island together with fries, fountain sodas and other goodies that are packaged in a familiar way and even better news is its at a familiar price equal to off island burger joints.
Here are just a couple of examples off their extensive menu. Stop by Pirate Jacks in Oak Bluffs and check out the full menu.
#3 The Cheese Burger Combo………. 12.99 (Cheese Burger, Fries & Beverage)
Half Pound 100% Black Angus beef flamed broiled to perfection dressed with lettuce, tomato & mayo and your choice of American cheese or Cheddar
#13 2 Piece Meal . .9.99 Two pieces of mouth watering crispy fried chicken + Fresh Baked Biscuit, Pommes Frites
JUNIOR PIRATE MENU
#18 Golden Fried Chicken-Nugget Meal $6.99 with French Fried & Soda
#19 Melted Cheese Sandwich…$6.99 with fries and soda
Better yet, call in an order for pick-up and bring it to the beach 508-693-1111