by Colin Stoecker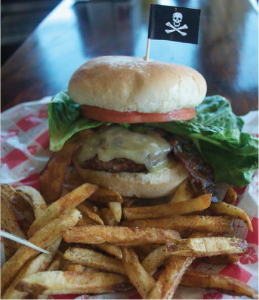 The Paleolithic diet, or Paleo diet for short, can be found at Pirate Jack's Flame broiled burgers in Oak Bluffs. The Paleo diet is a primitive one with an ancient history that goes all the way back to when human beings and animals both survived as hunters and gatherers. This diet strictly prohibits carbohydrates and is big on meats and vegetables, all of which can be found in abundance at Pirate Jack's!
Pirate Jack's, which is in its second season on the Vineyard, guarantees that every 100% natural Black Angus burger served is antibiotic free, no hormones added, contains no growth promoting drugs, no artificial ingredients, vegetarian fed beef, sourced verified to its ranch of birth, and is raised under humane animal handling practices. What Pirate Jack's is really seeking to do while hopping on board with the Paleo diet is to stay on track with its healthy and great tasting food promise.
Seth Charter, owner of Pirate Jacks, adds that "we are really trying to create a situation here where anyone can come enjoy the food, whether they are vegan or just looking to eat healthier; we offer veggie and turkey burgers and even a lobster roll." Charter mentioned that, some of the local police officers tried out the diet and really enjoyed it. "I'm no dietician, but you're basically cutting out carbs, which turn into sugar," he says.
If you're following the Paelo diet, then the #16 Paleolithic Pirate is your number one choice! It is described on the menu as, "no buns, just two juicy flame broiled 100% Black Angus burgers, a side of lettuce, tomato and onion. Low Carb and Gluten free, this dish is served without fries." "The turkey or veggie burger can also be interchanged with the beef on our Paleo diet dish," Charter adds.
Looking for something a little more adventurous? Another popular dish on the menu at Pirate Jack's is the #5 Captain Jean Lafitte. This "New Orleans treasure" is a half-pound 100% Black Angus burger flame broiled and dressed with delicious smoked bacon and all natural peanut butter. Charter suggests to the curious patron to, "think Thai with peanut sauce, but on a burger instead!"
The Southern Fried Chicken, also a specialty at Pirate Jacks is healthier than at other island restaurants. Charter claims that "with the natural meat and ingredients, we use Canola oil in a way so the meat only absorbs about half of the normal amount of the oil."
The Pirate theme arose from the look of the building location in Oak Bluffs next to the Steamship authority says Charter. "The windows in the dining area always reminded me of an old ship, and I wanted to open a family oriented burger place here with great and affordable food."
So whether you're on the Paleo diet, or just cruising through Oak bluffs, stop in Pirate Jacks for the best in the world of burgers and fried chicken. And be sure to ask one of the cops directing traffic on your way to the ferry if they tried the Paleo diet at Pirate Jacks!
MORE INFORMATION:
Call (508) 687-9636 or visit togorestaurant.com and place a take-out order!!