by Shannon Hurley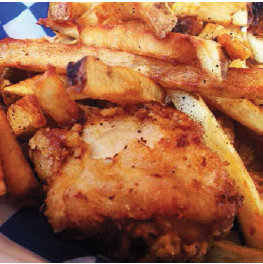 Flame broiled black angus burger topped with thick sliced apple wood bacon, sauteed mushrooms, swiss cheese, and homemade roasted garlic sauce. Flame broiled turkey burger dressed with lemon pepper sauce and swiss cheese. Fresh baked biscuit, southern fried chicken, and pomme frites. Marinated chicken breast wrapped with hummus, feta, tomato, and kalamata olives. No, you won't have to scour the island to please all the bellies in your party, just head to Pirate Jack's Burger Shack across from the Flying horses in Oak Bluffs.
Father and son team Ed and Seth Charter are celebrating the restaurants second summer on the Vineyard with an expanded and enhanced menu. "We changed the menu a little bit," says Seth Charter, "upgraded."
The shack now only serves 100% black angus burgers with no antibiotics, no added hormones, no growth promoting drugs, and no artificial ingredients. Beef is source verified to ranch of birth, a product of a 100% vegetarian diet and humane animal handling practices. Because quality is tasty.
And tasty is what the charter's strive for. "Every year before we open we get our normal burger and make it with different types of beef and try them all," says Charter, "this one we liked more, [it's] quality, good stuff." And so the change came. And so did the yum.
Lobster rolls and chicken and waffles are more changes the owners hope to make before the season draws to a close. For now, patrons will have to make due with a large list of unique burger combos dressed in names like the Paleolithic Pirate, the Captain Benito de Soto, and the Black Beard. Not to mention packs (or single pieces) of southern fried chicken, salad and veggie wraps, gourmet hot dogs, and pommes frites with choice of 11 dipping sauces.
Conveniently located a short walk to the Steamship, the harbor, or the avenue, one of the Vineyard's only themed restaurants provides a relaxed, open shelter from the busy, hot crowds of summer. Wall-to-wall windows, long wooden bar-style seating, open kitchen and lots of air conditioning ensure an easy stop in your day. Thick fishing rope, pirate paraphernalia, and dockside décor complete this island escape.
Whether catching a ferry, ducking out of the sun, or carrying away to busy but hungry vacationers, Pirate Jack's burger shack has your quick, quality food needs covered.