If you can sit, you can fly!
by Colin Stoecker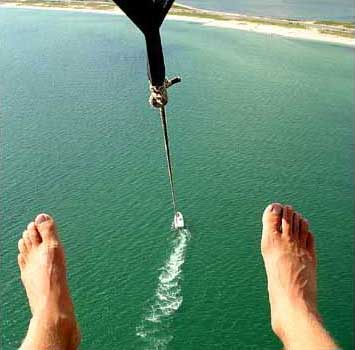 Parasailing is the best way to fly in watersports this summer. Sail more than about 600 feet above the Vineyard solo or tandem, and experience a spectacular view of the island and even the mainland! Your number one stop for water sports and boating needs this summer is at Martha's Vineyard Ocean Sports in Oak Bluffs.
A major tourist draw, parasailing is popular amongst visitors who come in off of the ferry spotting the red white and blue sails. Contrary to popular belief, parasailing is neither scary nor at all dangerous. When asked whether there has ever been a parasailing incident Captain Clarke responds that "I have never had an accident and I have flown over 100,000 people."
Clarke takes safety very seriously, he conducts routine engine room checks, replaces flight line as needed, buys new parachutes ever 2 to 3 years and has different size parachutes for different wind conditions with zippers and clips that manage air flow to adjust to various wind conditions. Clarke believes that all Parasail accidents are a direct result of flying in winds over 24 mph and/or faulty equipment. And to further reasure his clients, Clarke mentioned that "I even went up myself and cut the line at about 600 feet and drifted slowly back down into the water."
Mark Clarke, a Coast Guard Licensed Captain for over 25 years and the owner of MV Ocean Sports, is a veteran parasailer. Clarke has generated over $95,000 flying parachutes for the following corporate sponsors: Miller, Budweiser, WMVY Radio, Cool 102, Pixie 103. Clarke worked with the envioromental police and Coast Guard from Massachusetts, Conneticut and Rhode Island to do a Parasail overview for safety.
Every summer Clarke and his team take kids and adults from Camp Jabberwocky out Parasailing and jet skiing. " These kids and adults all suffer from Down syndrome and Cerebral Palsy. We lift them out of their wheel chairs and send them soaring through the air and zipping across the water on jet ski's. It is an awesome experience for the participants and very rewarding for myself and my crew." There is also an optional "foot dip" towards the end of the 10-15 minute flight time. "People ask us if they can get wet, so on the way down, we can drag their feet in the water a bit, maybe even all the way up to the waist if they request it" says Captain Clarke.
The landing can be achieved completely dry if requested as the parasail cord is reeled back in and the parasailers walk gently back onto the boat. "I am afraid of heights" adds a first time parasailer, "and I didn't even think twice about it while I was drifting, the maximum of 500 feet, above the island. I could see all of Oak Bluffs and Vineyard Haven!" Clarke has flown kids from the age of 2 and up (when accompanied by a parent) and has even sent up thrill seekers past the age of 90 and this has also made Vineyard Gazette headlines in years past.
All in all, parasailing is an excellent and safe recreational activity for the whole family, so head to MV Ocean Sports for all of your parasailing and boating needs. Don't leave the island without trying some of the other activities offered at MV Ocean Sports, including: fly boarding, jet skiing, waterskiing, wakeboarding, knee boarding, and tubing. Along with Boston Whaler rentals, Banana Boat rides, and sunset cruises, MV Ocean sports has it all covered!
Rates for 10-12 minute flight are:
$125 for a single person,
$230 for a tandem flight,
and $25 to ride along as an observer.
Early Bird Special (8am- 10am) is: $110 a person and $200 for a tandem flight.
Century 21 Renters receive a 20% discount on all MV Ocean Sports activities.
MORE INFO
mvoceansports.com
508-693-8476