By Colin Stoecker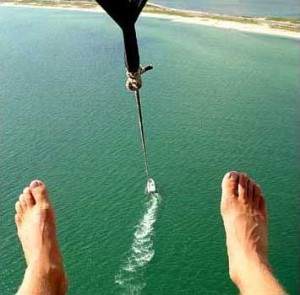 I don't like rollercoasters and am 100% comfortable for the most part with my feet planted comfortably on the ground.
But parasailing at MV Ocean Sports was possibly one of the most enjoyable experiences that I have had while on the Vineyard this summer. I went up tandem with my friend and it was neither scary nor life threatening.
Mark Clarke, the owner of MV Ocean Sports, told me that it is not scary at all and that you don't even have to get wet if you don't want to, as there is an optional "foot dip."
The parasail is dragged in tow by a fairly fast speed boat and it looks truly magnificent fully opened behind the boat. Once the parasailers are attached, Mark and his assistant give a thumbs up and then the line beings to unreel from the boat. It continues to go out until the boat is merely a spec on the ocean 700 feet below.
Mark ensures that parasailing is completely safe because he has gone up to 700 feet and cut the cord himself, only to float safely back down into the water!
He states about the foot dip, which is near the end of the 10-12 minute flight that "you wouldn't want to go back up again after descending from that high, it feels pretty good to get back onto the boat after being up there," he adds chuckling.
MV Ocean Sports is the best place to try out new things in water sports this summer! Go try out parasailing or flyboarding with Kev Co the Pro or Mark Clarke, I promise you won't be disappointed!