by Ashley Amato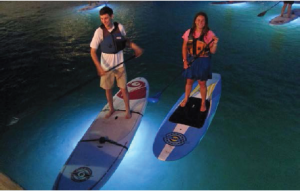 Stand up paddleboarding has become the water sport of choice for those trying to avoid the summer heat. When nighttime settles in, paddlers hit the water for another reason. As the sun sets, luminescent paddleboards break the darkness. "As the sun goes down the boards get brighter until we are absolutely glowing!" says Chick, general manager.
Island Spirit Kayaks has given this sport a new direction. Equipped with high intensity LED lights, the paddleboards offer an alternative to the usual nightlife. Your board will reveal the mysterious sea life below— get ready for a surprise! "We have seen swimming scallops, striped bass, mating horseshoe crabs.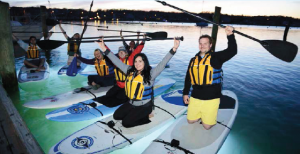 From those wanting to relax on the water, to those looking for an exciting adventure, this is for everyone. Paddleboarding is great for the family but also a fresh, unique date idea. Chick raves, "This is the first year of our LED lights for our SUPs, but I think it's a new thing everywhere. We are having so much fun with these and are very excited about offering this this year."
Next time you pass State Beach, make sure to stop by and make a reservation for their next LED paddleboard tour. Tours are $65 per person, ages 12 & up only.
Regardless of the lights, paddleboards make a great daytime water activity. Bring your swimsuit and cool off with a fun paddle or kayak rental. Also check out Island Spirit Kayak's upcoming kayak to the Jaws film and full moon kayak tours.
MORE INFO:
Mon – Sat: 8:00 am – 7:00 am
Sun: 10:00 am – 5:00 am
Little Bridge, State Beach,
Oak Bluffs MA 02557
(508) 693-9727
islandspiritkayak.com