Ode to a Countertop at Eye-Level:
Good Ship Lollipop Takes You Back to Being Knee High to a Grasshopper
Chaiel Schaffel
Everyone has at least a few treasured memories of when they were a small child. They're probably dusty and out of context, a blurry recollection of something that bursts into the forefront of your everyday life. It can be a taste, a smell, or a particular sound that rockets you back to when the countertop was eye-level.  Good Ship Lollipop, at the end of Circuit Avenue in Oak Bluffs,  has mastered the art of triggering this nostalgic throwback with its yesteryear products and old-fashioned charm. Labeling it as simply a "Candy Store" would be a bit of a disgrace. The  storefront is a kaleidoscope wrought in piles of candy, antique toys, and the smell of freshly made chocolates.  Every shape, color, size, and era imaginable are represented as Shirley Temple pumps through the stereo. This place is a playground for both young and old. And the shelves aren't stocked with antique toys and the candies of yore, but with an escape to the carefree happiness of life as a child.
Marguerite Cook, the owner of the shop, wasn't always in the candy business. She used to work as a tax collector for the town of Oak Bluffs, and held the post for twenty three years. On her desk sat a small jar of candy to cheer up the townspeople. "...After I retired, people on the street, the taxpayers and such would say, '"There's no candy on the counter! What are we going to do?"' She said during in an interview with This Week.  The first item on her bucket list was to start a candy store after retirement, and sitting at the end of Circuit are her dreams in fruition.
New confectionary innovations line the shelves next to candy classics. Turkish Taffy, Bit-o-Honeys, Mary Janes and Licorice sit beside this generation's Airheads, Mike and Ikes, Hot Tamales, and Lemonheads, to name a few. Though colorful candy is stacked everywhere, Cook is probably most proud of what sits behind the glass cases in the back of the shop: her chocolates. The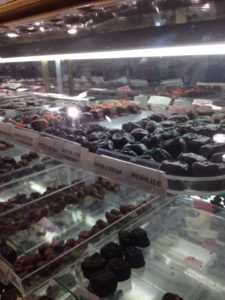 fresh, homemade chocolates are Marguerite's darling.  When asked if chocolate making was a science or an art, she firmly replied, "It's an art. We put artful care into everything we do. An awful lot of care." Brenda Mastromonaco, herself part of the Hilliard family, a famous Boston area chocolatier, taught Marguerite how to make chocolate. She started off with loaner tempering kettles and Brenda's know-how as a favor from Mr. Mastromonaco. In return, she was to start a store in Oak Bluffs.  Among her innovations are the nut Turtles, featuring a silky smooth caramel inside spiked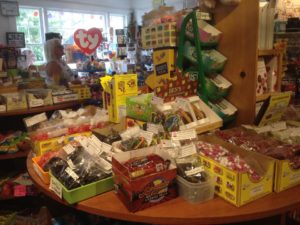 with nuts, and a rich, creamy milk chocolate coating, with a choice of sea salt coating or plain. Another personal favorite is the Chocolate Dipped Oreo, a whole oreo cookie submerged in delicious, warm chocolate and left to cool, hardening into a scrumptious shell. Additionally, Cook has chocolate to fulfill all needs, carrying vegan, gluten free, kosher, and sugar free chocolates. The best deal in the house?
"The little old fashioned candies that we have, I started selling them two for a quarter."
I could go on and extoll the virtues of this kind person and her one-of-a-kind business, but Marguerite puts it more eloquently: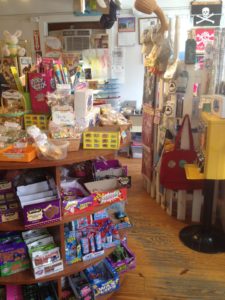 "I truly do love what I do. People keep saying, "Don't you think it's time for you retired?" But I just hate to let go, because I love it so much. I love hearing the comments when people come in, seeing different things they saw when they were little kids.  It's just so great watching the kids here grow up and come back with families of their own."