The MV Sharks Baseball Team Plays in Lights
By Courtney Taylor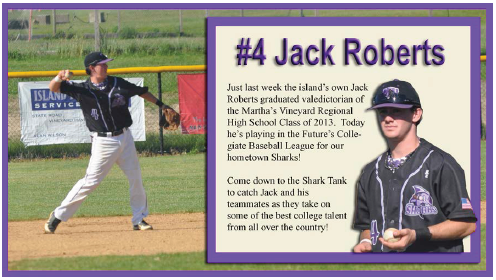 Looking For a Fun Activity?
Come watch as players from some of the top collegiate baseball programs in the country prepare for a future in Major League Baseball. The Martha's Vineyard Sharks are a hometown baseball team. They play weekly on the Vineyard and at the Shark Tank, located behind Martha's Vineyard Regional High School.
Find it all at the Shark Tank: jump houses, purple foam fingers, and the scent of popcorn wafting through the air. Game nights are a great setting to explore island life and meet some of the Vineyard's biggest baseball fans.
While some visitors may enjoy the view behind home plate in the newly installed stadium seats, others may enjoy sitting in the bleachers, which are conveniently located next to the "bullpen" – the sitting area for pitchers who are not on the mound that evening.
Game nights are a great setting to explore island life and meet some of the Vineyard's biggest baseball fans.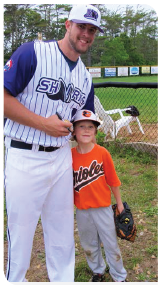 "Sharky" is a team favorite among children. Watch as the beloved team mascot parades through the crowd, followed by a trail of enthusiastic young fans. The Sharks will have two Kids Days at the Shark Tank on June 28th and July 19th at 11:00 AM. All kids 12 and under will get into the park for free.
Opening Week
The season officially began last week as a crowd of 550 spectators filled the bleachers for the Sharks' Opening Night. Children and families watched as Scott Lively of the Cubs and Sharks general manager Jerry Murphy threw the ceremonial first pitches.
Vineyard Little Leaguers showed up en masse for Little League Night. Young players who wore their Little League team jersey and cap were admitted for free and received a Sharks cap at the gate. Excited children eagerly awaited players in the "bullpen" to sign their baseballs and hats. The young men happily obliged.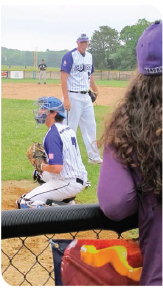 It was a successful Opening Week for the MV sharks and their newly renovated stadium. In addition to the new stadium seats, lights were installed for night games, a true game-changer for the MV Sharks' baseball season, according to Sharks Manager Jerry Murphy.
"The quality of the team combined with the new lights and stadium seats will create a really nice atmosphere for ball games this season," Murphy said in a recent interview.
Families can also enjoy food at the concession stands, where popular fare includes grilled hot dogs, sausages, and hamburgers. Visitors can visit the gift shop to show their team support and purchase their favorite purple and white Shark gear to commemorate the event.
Bleacher seats are $4 for kids, $5 for seniors and $6 for adults. Reserved seating is $10.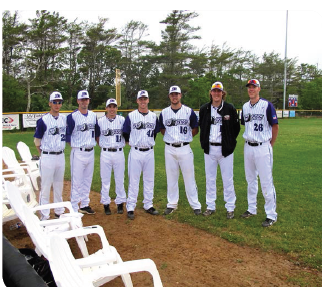 MORE INFORMATION
Upcoming Home Games:
Sunday, June 23 – 6:45 p.m. – Nashua Silver Knights
Thursday, June 27 – 6:45 p.m. – Wachusett Dirt Dawgs
Friday, June 28 – 6:45 p.m. – Brockton Rox
Free Parking.
Address:
Martha's Vineyard Regional High School
100 Edgartown Rd
Oak Bluffs, MA 02568