Motorbikes that travel on water. What could be cooler?
by Diane Alter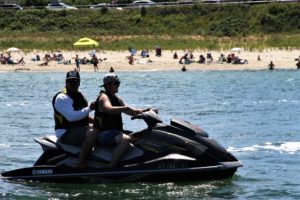 Jet skiing is the equivalent of riding a motor bike on water. It provides a huge adrenaline rush. Many riders say there is nothing like the exhilarating experience of gliding over the water with the sun in your face and the wind at your back.
MV OceanSports, located at the Oak Bluffs Harbor, offers a number of jet skiing options for both newbies and experienced riders. All trips to the Vineyard should include a safe and unique jet skiing adventure.
MV OceanSports offers a fun and fabulous two hour guided tour of the Vineyard on jet skis. The tour starts in Oak Bluffs, with a skilled guide leading the way out of harbor toward Edgartown.
En-route, the guide will share insight about this storied island from key vantage point that no bus tour can outdo. Along the way, riders will see eclectic Oak Bluffs and tony Edgartown, as well as legendary Cape Pogue on famed Chappaquiddick Island. The tour stops for a relaxing visit at Cape Pogue before zipping back to Oak Bluffs.
This guided tour shoves off at 8 a.m. and return at 10 a.m. That gives you plenty of time to wow others with stories about your jet skiing experience and still have nearly the whole day still ahead.
Experienced jet skiers can rent one of MV Motorsports top-of-the-line Yamaha VX 1100 4-Stroke Wave Runners to cruise around Oak Bluffs on their own. Because safety is always MV OceanSports' top priority, professional instruction is always provided.
Make sure to stop by MV OceanSports for one of the most unforgettable experiences available on open water and check jet skiing off your bucket list.
MORE INFORMATION
Oak Bluffs Harbor, Dockside Marina
Oak Bluffs
(508) 693-8476
mvoceansposrts.com