MV Ocean Sports Dominates in Customer Satisfaction
by Hannah Payne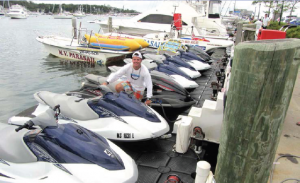 It's 7:00 and as I look out the window of my cottage, I can see the low sun as it peeks through the trees. I throw on my swimsuit and grab a rice cake as I run out the door and drive into Oak Bluffs. It's early and Ocean Park is full of vacant parking spaces. I walk the sidewalk that lines the Oak Bluffs' harbor as I make my way to MV Ocean Sports.
Shaking with excitement, I scramble for my credit card and driver's license. "Good morning, I'm here for the early bird scenic island tour," I chirp. I quickly read through the safety agreement forms, sign, and initial. Drew Arcoleo, leader of the scenic tour, guides me to the lifejackets where he picks the perfect size and buckles me up. I tell him that I've never ridden a jet ski before, and he reassures me that they are stable and easy to control. "We recently purchased Yamaha VX 1100 4-Stroke Wave Runners. Their latest technology is quieter, faster, and better for the environment," says Arcoleo.
My tour group consists of 4 jet skis in total (plus our guide). Arcoleo gives us a quick synopsis of where we'll be going and what we'll be seeing. Safety tips are addressed — stop, go, throttle, and we're basically experts. Arcoleo pushes us each into the water (which he calls "splashing the ski") and signals for us to turn our machines on.
We depart from Oak Bluffs' Harbor at a mere 5mph. As soon as we're out of the No Wake Zone, we're pushing between 35-50mph. We head toward Harthaven to see Ospreys, down State Beach to Jaws Bridge, over to the Sand Flats in Edgartown Harbor, and continue on to Chappaquiddick Island. We spend some time racing in circles, jumping wakes, and carrying on like children; then take a break and beach the jet skis on a long, deserted peninsula of Chappy while we collect shells and swim in the gorgeous, clear, warm water.
After our swim, we head straight to Vineyard Haven Harbor to see the tall ships and yachts, then back to Oak Bluffs. My cheeks ache from smiling and laughing. I think I've found my new passion! Shout out to MV Ocean Sports' staff. Thank you for being so patient, friendly, and attentive!
The early bird scenic island tour takes place from 8-10am, but jet skis can be rented by the hour. Single, double, and triple riders are available. Experience the beauty of Martha's Vineyard from a different perspective!
Other Watersports Available:
Fly boarding
Para Sailing
Boat Rentals
MORE INFO:
Early Bird Island Scenic Tour
(8am-10am)
Single — $260
Double — $285
Triple — $310
(10am-Sunset)
Single — $160/hour
Double — $190/hour
Triple — $210/hour
mvoceansports.com
508-693-8476