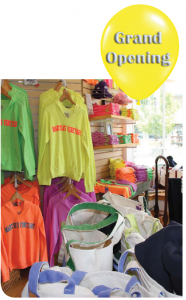 Take Home a Great Souvenir
Soft As A Grape provides top quality merchandise for those wanting to take a piece of the Vineyard home
by Trena Morrison
No matter where you go on vacation, you always end up bringing home some type of souvenir. On this quaint and beautiful island, people tend to make this matter a top priority- seeking out items such as wampum bracelets, beach glass pendants and the coveted t-shirt or sweatshirt adorned with the name "Martha's Vineyard."
It started out as a wine making supply shop in 1972 but since that time, Soft as a Grape has evolved as one of the leading boutiques on and off the island, offering quality clothing and accessories that makes for a great souvenir!
Soft as a Grape has recently opened a third store located in the town of Vineyard Haven, adding to its fleet of boutiques situated in Edgartown and Oak Bluffs. Their most famous line aside from the bright colors and classic styles is their Super Soft collection made from 100% ringspun combed cotton, making for a really comfortable piece of clothing!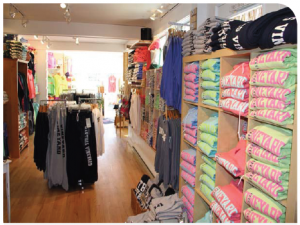 You can also find roomy beach bags and top-handle totes, vintage-style signs, cute little knick-knacks and coin purses that are sure to make great gifts for friends and relatives.
SAAG in all three of their locations will be having a Grand Opening sale during Memorial Weekend. Saturday, Sunday and Monday receive a free t-shirt with a $50 purchase or a free tote bag with a $100 purchase.
If you are hunting for the perfect souvenir to bring home, then head to Soft As A Grape and pick something up for you, your loved ones and your home! Soft As A Grape does not disappoint!