Discover Local Vineyard Music in Downtown Edgartown
by James Reagan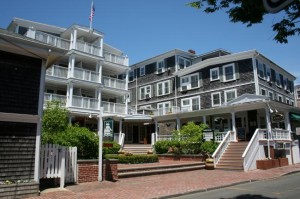 With famous musicians like James Taylor and Carly Simon calling Martha's Vineyard home, it's no surprise to discover that there are other talented musicians who call this island home. Many of them will make multiple appearances across the Vineyard this summer, as they take advantage of the massive amounts of tourists that migrate here with the heat.
Thankfully for anyone who wants to check out all this great local music, there is an easy and affordable way to do so. Every Thursday until Labor Day, the Vineyard Hotel is sponsoring a series called, Music on the Square. It will feature some of the island's best local musicians.
The concert takes place outside on the square surrounded by the hotel's front porch. This provides not only an excellent front row view for guests of the hotel but it is also located in a central part of downtown Edgartown where passersby are more than welcome to drop in.
Entering its seventh year in operation, Music on the Square was inspired when the neighboring Eisenhauer Gallery decided to host some live music. "We just noticed that there were lots of people interested in the music and that we had a really prime location," says Vineyard Hotel manager and Music on the Square planner Joanne Sardini.
Unlike many other concerts on the Vineyard, Music on the Square has been entirely free from the start. An emphasis has been placed on keeping the concerts affordable and accessible to just about anyone, resulting in a family block party sort of feel.
"We've been a very popular venue for whole families," Sardini says. "Adults can come here and drink a beer while the children can also enjoy the show."
Keeping with the theme of easy and accessible music, most of the songs that the musicians play are covers. Some of the artists who will grace Music on the Square's stage include next week's guest Mike Benjamin and Johnny Hoy & the Bluefish in a few weeks.
"With many of the bands playing covers, it's our hope that the familiar songs can draw in more people," Sardini says. "We just really want this to be an entire family affair."
The concert begins at 6 p.m. and generally runs till around 8 p.m. Come out on July 18th to enjoy Mike Benjamin and be sure to catch this free show every Thursday afternoon!
Summer 2013 Lineup:
July 18th: Mike Benjamin
July 25th: Art Exhibition Reception featuring
the work of Michel Brosseau, Eric Abrecht,
& Cheri Christensen
Music by Johnny Hoy
August 1st: Mike Benjamin
August 8th: Art Exhibition Reception featuring
the work of Carol Bennett and Jim Zwadlo
Music by Mike Benjamin
August 15th: Mike Benjamin
August 29th: Johnny Hoy