Murdick's Cafe, From Classics to New Creations
by Ashley Amato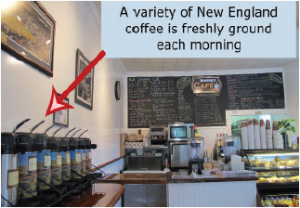 The bright voices of greeting from the Murdick's Cafe staff reflect the care and kindness central to their business. Lining the wall are six types of freshly ground New England coffees while the counter is heaped with bagels, doughnuts, and cookies made everyday. After taking a bite into one of their many sandwiches, it is hard to believe the cafe has only been open for two years–toasted bread and melted cheese only leave one craving more. With an emphasis on prioritizing the customer, Murdick's Cafe offers the ability to customize your sandwich based on a sizable list of fresh ingredients.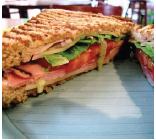 Between slices of multigrain are freshly sliced ham and swiss, green peppers, red onion, and tomato, topped with pepper house mayo and honey mustard. Roast beef and swiss are the perfect match for tomato, red onion, mushrooms, mayo and horseradish on ciabatta. Don't forget to pair your lunch with Murdick's daily brewed ice tea!
Mike McCourt, owner of Murdick's Cafe, explains their exceptional energy and commitment, "We try to treat everybody as the most important person that has ever walked into our store."
Although Murdick's Fudge has been longstanding on the island, born from a recipe that is 126 years old, the cafe has more freedom of motion to propel ongoing progress. New recipes for the summer have already hit the menu, such as the cinnamon rolls overflowing with gooey frosting and crisp warm paninis.
"We keep just trying to offer things within our realm. We are not trying to go outside of our box because it is a small place and if you spread out too far, sometimes you lose stuff in the middle," says McCourt.
McCourt is at home in the food business, having thirty years of experience ranging from being a hands-on prep cook, to restaurant work and wholesale purchasing. Even with his vast knowledge, he insists on advancement.
"You never perfect anything, you just keep trying to get better and better, and that is what we are trying to do"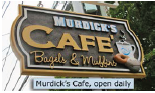 With no detail overlooked, Murdick's Cafe is a necessary stop for everyone on the island. McCourt leaves us with his motto, "Kids are king in our stores. If you can make a kid smile, it helps everybody out."
19 N Water St Edgartown, MA 02539
(508) 627-7605